Trump Does Deserve Some Credit for the Strong Jobs Report
Two economists say post-election confidence stimulated hiring. A third says it's just the weather.
By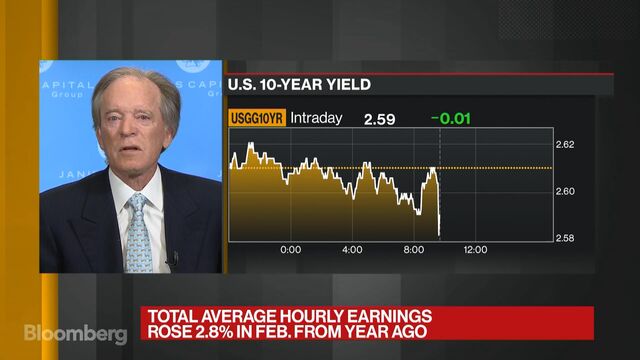 U.S. President Donald Trump was quick to highlight the better-than-expected U.S. jobs report released Friday, forwarding a Drudge Report headline on Twitter that said simply, "GREAT AGAIN + 235,000," and linked to Bloomberg's news story.
I asked three apolitical economists how much credit Trump deserves for the strength of the employment growth. Two were fairly bullish on the president's role, another not so much. The reasoning behind their differences, however, is what's really interesting.

Michael Englund, chief economist of Action Economics in Boulder, Colo., says "It's clear that sentiment has moved powerfully bullish" since Trump's election. While two strong months aren't enough to establish a clear trend, "it's hard to argue that this would have no effect at all" on hiring. He cited rising indexes of sentiment by small businesses, producers, and consumers. For example, following Trump's victory in November, the small-biz optimism index of the National Federation of Independent Business shot up to its highest point since 2005. 

"It's basically Trump and weather," Englund says—the weather in question being an unusually warm February that stimulated shopping and homebuilding, among other sectors. Then he added a third factor: inventory building, a process that began before the election.

Michael Feroli isn't so sure about any Trump effect. The chief U.S. economist at JPMorganChase & Co. says mild weather probably added 25,000 to 50,000 jobs in February. "If you X that out, you're probably running similar to the trends you have been running" before the election, Feroli says. 

What about those good sentiment numbers? Feroli contends that, while the NFIB's overall index of optimism shot up, the increases that matter most in that survey—expectations of hiring and capital spending—were smaller. Concludes Feroli: "Companies are happy but they want to see it, to believe it, before they act on it."

The third economist I talked to, Josh Wright, breaks the tie by leaning in Englund's direction. Wright is chief economist at human resources software company iCIMS Inc. "It appears that we have a significant confidence effect taking place," he says. "The strength throughout this report was just everywhere."
"It's too soon to say that we are definitely seeing feed-through [from higher confidence]," Wright concludes, "but this report significantly raises the probability."

A lot depends on what happens next. Businesses are expressing confidence that Trump will reduce regulation and cut taxes. Sentiment could turn cold if his agenda gets derailed. For a story in this week's issue of Bloomberg Businessweek, I spoke with Glenn Hubbard, a former chief of President George W. Bush's Council of Economic Advisers. "Animal spirits will only take you so far," he said. "Then you're like Wile E. Coyote in the cartoon." You realize there's nothing beneath your feet, and it's a long way down.
Before it's here, it's on the Bloomberg Terminal.
LEARN MORE