A Wind Power Plant for the Office
The 30-foot WindTree is designed as a localized urban generator.
By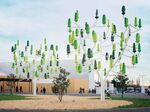 Innovator Jérôme Michaud-Larivière
Age 58
General manager of NewWorldWind, a subsidiary of a French industrial group
Form and function
NewWorldWind's 30-foot-tall metal structure houses 54 small turbines for localized wind-power production. The WindTree is meant to help urban businesses and governments supplement their conventional energy supplies.

Use
With vertical turbines working at wind speeds from roughly 4 mph to 36 mph, one WindTree can produce 1,000 kilowatt-hours to 3,500kwh a year—a decent chunk of a home's annual power needs.
Tweaks
The 3-foot-long turbines, called Aeroleaves, look a bit like big ears of corn. Their microprocessors adjust turbine rotation to get the most out of the wind's kinetic energy.
Origin
In 2011, shaken by the nuclear disaster in Fukushima, Japan, Michaud-Larivière, a former novelist, script doctor, and TV producer, launched a startup called NewWind.
Help
Michaud-Larivière initially drew on the engineering expertise of his uncle, Henri Perrier, considered the father of the Concorde jet.
Deal
The startup was acquired earlier this month, hence the name change, says Michaud-Larivière. (He declined to name the acquirer pending an official announcement.)
Price
Each WindTree costs €49,500 ($52,500). Taxes, shipping, and installation can bring the total to about €70,000.
Next Steps
Wind is one of the cheapest renewable energy sources, with power from new farms averaging 2¢ per kilowatt hour, according to the U.S. Department of Energy. (Obstructions from nearby buildings are likely to reduce efficiency in cities.) Seven WindTree prototypes are in use in cities and on corporate campuses in France, Germany, and Switzerland. Michaud-Larivière says his first 23 commercial trees will be delivered to customers such as Aéroports de Paris and France's Vinci Construction starting in June, and he aims to lower the price by the time North American sales begin in the fall.
Before it's here, it's on the Bloomberg Terminal.
LEARN MORE