Does Macron Hold the Key to Merkel's Heart?
Franco-German ties need to strengthen for the EU to survive.
By and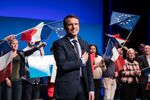 A snowstorm on the East Coast of the U.S. upended Angela Merkel's travel plans, delaying until March 17 her scheduled Washington meeting with President Donald Trump. One appointment that stayed on the chancellor's calendar, though, was a March 16 tête-à-tête in Berlin with French presidential candidate Emmanuel Macron.
Merkel has good reason to reach out to Macron. The 39-year-old independent centrist now looks to be in position to defeat the far-right National Front's Marine Le Pen, whose anti-Europe views are anathema to Merkel. Only two months ago, Merkel hosted then-front-runner François Fillon, whose center-right Republican party is the traditional ally of her Christian Democratic Union. But Fillon's support crumbled over allegations that he hired his wife and children for no-show parliamentary jobs. He was formally charged with misuse of public funds on March 14. Recent polls suggest Fillon will be eliminated in the first round of voting on April 23, with Macron then defeating Le Pen in a May 7 runoff.
For Germany, a Macron victory could offer far more than a firewall against Le Pen. The Franco-German partnership that formed the European Union's historic core has been strained in recent years, as President François Hollande balked at Merkel's austerity-based management of the European debt crisis and irked Berlin with slow deficit cutting and tepid economic reforms that fell far short of those enacted by Germany. Macron impressed the Germans by pushing for reforms during his stint as Hollande's economy minister and by pledging to meet the 3 percent deficit ceiling set by euro currency rules—something none of his rivals has promised. "Macron makes proposals that sound so normal to German ears," says Matthias Ruffert, a professor of European law at Humboldt University in Berlin. "This could be a new chance to re-trigger the French-German relationship."
Europe needs that relationship more than ever. Britain is exiting the EU, a NATO skeptic occupies the White House, and there's an increasingly assertive Russia to the east. Those factors, along with resurgent populism, have "created a sense of alarm about the European project," says Christian Bluth, an economist at the Bertelsmann Stiftung think tank in Gütersloh. "The idea of Europe needs to be reinvigorated and made more attractive. That can only be done if it is done together with the French."
Macron has taken pains to reassure Germans that he's ready to enforce discipline at home. "There is a French responsibility to fix the situation," he said at Humboldt University on Jan. 10. "We have to restore trust with Germany" by enacting "strong reforms to realign our economy with the German success." In campaign speeches he argues that France should work within European structures—rather than erecting trade barriers or quitting the euro currency, as Le Pen wants to do—to protect working people from the ravages of globalization. To Germany's relief, he's taken a tougher stance on Russia than Le Pen or Fillon, both of whom want to lift sanctions on Moscow. And while Le Pen and Fillon don't want France to take more refugees, Macron has called for an immigration policy "that would be efficient, clear, and carried out with our European partners."
In exchange for such moves, Macron has said he wants Germany to loosen its purse strings and pursue "a much more growth-friendly policy." Merkel is unlikely to grant that wish quickly. Backtracking on long-standing austerity positions could alienate her center-right base as she faces a tough reelection challenge this year from the Social Democrats' Martin Schulz. And Macron's reforms and budget cuts may disappoint the Germans. Unlike the neo-Thatcherite Fillon, who's promised to raise the retirement age from 62 to 65 and eliminate the 35-hour workweek, Macron would simply make it harder for public employees to retire early and give companies more flexibility to negotiate schedules with their workers. Fillon wants to cut public spending by €100 billion ($106 billion) over five years. However, he wouldn't immediately lower France's budget deficit below the 3 percent limit, since he's proposed deep tax cuts that would shrink revenue. Macron has promised only modest tax cuts.
France and Germany "have not been seeing eye to eye for a long time," says Roland Freudenstein, policy director at the Wilfried Martens Centre for European Studies in Brussels. "The strategic differences on economics, and the role of the state in the economy and international trade, are so deep and widespread, one French president cannot change that."
Still, the timing could work in Macron's favor. Euro zone growth is ticking upward, with the French economy expanding at its fastest rate since 2011. Annual growth from 2017-19 could "trend towards 3 percent," double the pace during Hollande's term, says Martin Malone, an investment adviser at London brokerage Mint Partners Ltd. "Macron may or may not deliver, but the positive tailwinds are very likely to make his traction better."
While Germany still expects its European neighbors to live within their means, "there will be more leeway," says Bluth. "Austerity won't be as important" as it was during the years of the debt crisis. That, he says, could help "the French-German engine get back to work, being a constructive force in propelling Europe forward."
The bottom line: Germany is betting on Emmanuel Macron to keep the anti-European Marine Le Pen out of the Elysée Palace.
Before it's here, it's on the Bloomberg Terminal.
LEARN MORE