The Most Feared Newspaper in France Is Full of Fiction, Scandal, and Puns
A satirical weekly named after a duck has become the top newsbreaker in Paris.
By and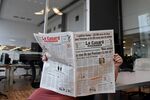 Political discourse around the world tends to be driven by sober media stalwarts like the Washington Post, the Times of London, or Germany's Frankfurter Allgemeine Zeitung. In France, the star of the show is an eight-page weekly that features excruciating puns for headlines, irreverent cartoons depicting political grandees as dwarves or devils, fake news such as imagined diaries—and real scoops that have laid low countless power brokers over the decades. On Tuesday nights, before Le Canard Enchaîné ("the Chained Duck") hits the streets, political and media elites across Paris flock to the paper's offices just a few steps from the Louvre to get an early bead on scandals taking flight.
Mixing facts, half-truths, and off-color jokes, Le Canard (as everyone calls it) presents details of behind-the-scenes machinations that readers perceive as more accurate and less filtered than what's published by its mainstream rivals. As campaigning has picked up for presidential elections this spring, the paper has broken dream-shattering stories week after week. In January it reported that conservative presidential candidate François Fillon had employed his wife in a no-show job for years—sending his campaign into a tailspin and his poll numbers into the dumpster. Playing no favorites, Le Canard has also published details of a taxpayer-funded trip to Las Vegas by center-right candidate Emmanuel Macron during his tenure as economy minister, and targeted nationalist leader Marine Le Pen, most recently with an April 5 report on investigations of an associate for alleged misuse of public funds. "Le Canard is neither right nor left, but rather in the opposition," says editor-in-chief Louis-Marie Horeau. "We've never been the vassal of any party."
Le Canard's power is all the more surprising in an era when online upstarts such as Politico, the Huffington Post, and BuzzFeed have an increasingly powerful voice. While Le Canard's closely watched Twitter feed, with almost 400,000 followers, lights up every Tuesday with a handful of teasers on that week's stories, anyone wanting to read them must visit a newsstand. The century-old paper does have a website, but just barely: The landing page features its logo with the slogan "A palm in the cyber-sea … but only one" and little more than links to images of front pages on which you can read headlines, but not articles. "Our job is to inform and distract readers with newsprint and ink," the website says.
The paper's reports—typically sprinkled with political gossip and details of private conversations such as Fillon's questioning by a judge about renovations at a château he owns—are increasingly credited with moving markets. As the Fillon story gained steam in February, the spread between interest rates of French 10-year sovereign bonds and Germany's benchmark bund hit a four-year high amid growing concern about a potential victory for Le Pen, who's questioned France's membership in the European Union and threatened to revive the franc as the national currency. "Do we have to check Le Canard every Wednesday?" asks Pierre Martin, a trader at Saxo Bank A/S in London. "Yes. Undoubtedly."
Going into this election season, the biggest concern of the French political establishment was that fake news might overrun Facebook and help propel Le Pen to a populist triumph. Instead, Le Canard has garnered attention with investigative stories that have hobbled the candidacy of the erstwhile favorite Fillon. The publication followed its scoop on Fillon's wife, Penelope, with another alleging that his children had similar arrangements in the Senate. And in March, Le Canard revealed that a Lebanese tycoon had paid Fillon $50,000 for an introduction to Vladimir Putin.
The newspaper has something of the sensibility of the Onion in the U.S., hammering away at the foibles and failings of the rich and powerful with tongue-in-cheek stories and illustrations. But Le Canard does more than spoof: Its 30 editors and reporters milk a network of tipsters reaching into the highest echelons of French society. The staff-owned weekly carries no advertising, and controversial stories are often unsigned—making it harder for the elite miscreants exposed each week to exact revenge. With a weekly circulation of about 400,000 copies selling for €1.20 ($1.30) each, Le Canard in 2015 reported €25 million in sales and profit topping €2 million.
Founded in 1915, the paper has a long record of political and business scoops. In the 1920s it took aim at Banque Oustric—a shady collection of shaky investments assembled by a tycoon named Albert Oustric—helping push the bank into insolvency and taking down a finance minister implicated in the affair. In 1979 the paper reported that conservative President Valéry Giscard d'Estaing had accepted diamonds from the African dictator Jean-Bedel Bokassa, helping scuttle Giscard's candidacy two years later. In 1993 socialist Prime Minister Pierre Bérégovoy committed suicide after Le Canard reported that he'd gotten a 1 million-franc interest-free loan from an industrialist—a scandal that led to the party's defeat in parliamentary elections. "Fortunately, Le Canard is a weekly," President François Hollande said at a February cabinet meeting—according to the paper itself. "If it were a daily, imagine the situation we'd be in."
The bottom line: Le Canard Enchaîné can lay low France's rich and mighty with satire, bad puns, and aggressive investigative reporting.
Before it's here, it's on the Bloomberg Terminal.
LEARN MORE