The Showbiz Issue
Bon Jovi's Cost of Doing Business
The tab to keep the This House Is Not for Sale tour running.
Bloomberg News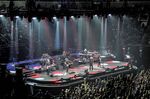 It costs about $10.4 million for Bon Jovi to stage its This House Is Not for Sale tour. Here are some of the larger expenses:
$4.6 million to lease the light, sound, video, and motion-­control equipment. At each show, there are 225,000 preprogrammed video and lighting cues.
$1.1 million ​to provide catering for ​80 local crew members in each city and 75 full-time touring crew members who together eat about 465 meals and drink 415 cups of coffee a day.
$700,000 to lease the stage, which is made from 3,500 feet of aluminum and held together by 7,300 magnets (and takes seven hours to assemble).
$350,000 to lease the rigging, which supports 110,000 pounds of gear hanging from the roof. There are 925 lights.
$25,000 per show for venue security ($35,000 in some major markets).
Spending all this allows the tour to charge a fan $1,750 to sit front row in a package deal that includes a backstage tour, a preshow party, parking, a USB drive with the concert download, and exclusive merchandise.

Before it's here, it's on the Bloomberg Terminal.
LEARN MORE