Marijuana
Canada's Plan to Be the World Leader in Legal Weed
Prime Minister Justin Trudeau is rushing to legalize recreational marijuana, which is already big business in Canada.
By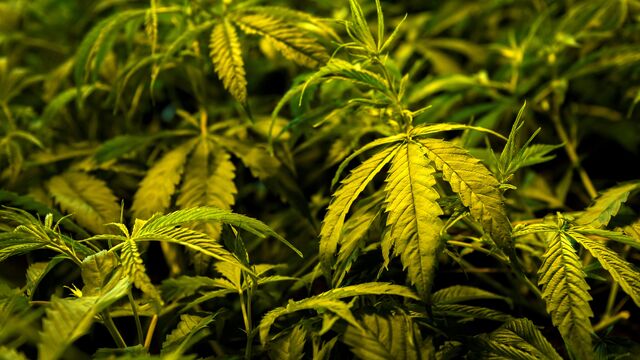 Amid the scarred tracts of Alberta's struggling oil region, an industry is taking shape that could give this part of western Canada an economy that's a bit more green. Inside the perimeter of Edmonton International Airport, an 800,000-square-foot greenhouse—the size of 16 football fields—is being built. When it's finished later this year, it will be the biggest marijuana "grow-op" in the world, capable of producing more than 100 tons a year of bud for Canada's soon-to-be-legalized recreational pot market.
Cannabis is already big business in Canada. The drug was approved for medicinal use 20 years ago, and almost 30 percent of young adults say they use it recreationally. The world's biggest marijuana companies have grown up in Canada. While the recreational pot business in the eight U.S. states where it's legal still deals almost entirely in cash, Canada is home to several large pot corporations that trade on the Toronto Stock Exchange.
The biggest, Canopy Growth Corp., with a market value of C$1.67 billion ($1.24 billion), produces more marijuana than any other entity in the world. Its 350,000-sq.-ft. greenhouse 8.5 miles from Niagara Falls will be surpassed as the world's biggest pot-growing facility by the one being built in Edmonton by its rival, Aurora Cannabis Inc., which has a market value of C$879 million. Share prices of both companies have more than doubled in the past year.

On April 13, Prime Minister Justin Trudeau's Liberal government, which enjoys a strong majority in Parliament, introduced a bill to legalize the growth, sale, and consumption of recreational marijuana. The Cannabis Act is expected to become law in time for Canada's 151st birthday on July 1, 2018. Trudeau made legalization a central part of his campaign in 2015, and he wants to move quickly. Yet he's facing pressure to slow down, given all the details that remain to be worked out, including tax rates and prices, as well as packaging and retail sales rules.
"There are an enormous number of different facets of legalization and regulation that have to be considered," says Mark Ware, a professor at McGill University and co-chair of a task force Trudeau appointed to study legalization. "All of this or any of this could pose a burden on municipalities, provinces, territories, health professionals, educators, parents—it's a huge undertaking."
Under Trudeau's plan, households will have the right to grow as many as four plants, while anyone older than 18 will be able to buy marijuana directly from the country's 43 licensed producers, or LPs, which ship medical pot to patients in canisters through the mail. It will be up to the 10 provincial and three territorial governments to decide whether to let LPs sell their cannabis in provincially run liquor stores, or if the provinces need to create something new such as specialty cannabis stores.
Not all the provinces are thrilled about the arrangement. Quebec is particularly skeptical about having to bear responsibility for regulating and policing legal weed. Other groups, including the Canadian Association of Chiefs of Police, have warned that this is too much change too fast.
As his point man to implement the law, Trudeau has chosen Bill Blair, the former chief of the Toronto Police Service. Blair is selling the plan as a public safety issue. "So much of the violence in our communities is directly attributed to the activity of gangs, and primarily the sale of drugs, and primarily the sale of marijuana," he says. "I believe that if we regulate marijuana we can take organized crime out of the business."
By most estimates, gangs stand to lose C$10 billion in annual revenue once the law takes effect. That's assuming the government can dry up the bulk of Canada's illegal weed market and direct buyers toward the LPs, which will have to compete on price to attract business. The street value of marijuana ranges from C$7.31 per gram in Quebec to C$13.17 per gram in the northern territories, according to the Parliamentary Budget Office.

Predictions vary on how much tax provincial and territorial governments can place on weed. Most consumer goods are subject to a sales tax of 5 percent to 15 percent, depending on the province. Some economists have estimated that annual tax revenue could hit C$5 billion, though a recent report from the C.D. Howe Institute, a think tank in Toronto, estimated that marijuana taxes would generate only C$675 million in revenue for the federal and provincial governments in 2018.
The higher the tax, the less Canada's LPs would be able to charge and still be able to undercut the black market—though Canopy claims to have lower production costs than the Hells Angels biker gang, which is widely seen as the dominant player in Canada's black market.
It will also help if marijuana remains in legal limbo in the U.S. Although an increasing number of states have passed recreational use laws, including California in November, U.S. Attorney General Jeff Sessions recently ordered a review of an Obama-era policy of noninterference with state laws on marijuana, raising questions about whether the Trump administration will go after legal pot markets.
That could end up being good news for Canada's pot business. "The longer U.S. prohibition remains in place, the more dominant the Canadian companies will become," says Mark Zekulin, president of Canopy. "American operators are still stuck, because at the federal level it's still a crime. With that comes uncertainty and risk. Not having to worry about crossing state lines creates an environment where we can grow our scale and capital to unprecedented levels."
The bottom line: Trudeau is aiming for a July 1, 2018, target for legalizing marijuana, already a big business in Canada, for recreational use.
Before it's here, it's on the Bloomberg Terminal.
LEARN MORE