In the West Bank, a $1.4 Billion Bet on Better Times
The new town of Rawabi highlights the perils of investment in the Palestinian lands.
By and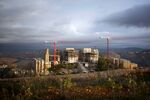 When Bashar Masri wants a sense of the ebb and flow of Israeli-Palestinian relations, he has two options: He can glance out the window or check his bank statement. Masri's office overlooks Rawabi, a new town 25 miles north of Jerusalem that's endured years of delays he blames on the Israeli occupation. And the ups and downs of his bank balance reflect the money backers in Qatar are willing to devote to the project—a barometer of the faith Gulf investors have in the Middle East peace process. "Rawabi was built knowing today's politics and the high risks involved," Masri says, sitting at a desk cluttered with maps and blueprints in the prefabricated building where he manages the development.
The project offers stark evidence of the perils of doing business in the occupied territories. Rawabi was conceived in 2010 as a magnet for upwardly mobile Palestinians eager to leave their dusty villages and crumbling cities. It was expected to take five years and cost $750 million to build, but the opening date has been repeatedly pushed back, and the final price tag is likely to hit $1.4 billion, as Masri says he's battled Israel over water hookups, links to the electric grid, and access for construction vehicles. While violence in the West Bank and war in Gaza have halted construction on several occasions, the goal is to create something that's "occupation-proof," says Masri, 56, a scion of a wealthy Palestinian family. He estimates his investors will sustain a $100 million loss if there's no progress toward peace but could turn a profit if the two sides reach a resolution. "We are building Rawabi to survive under the current difficult circumstances," he says. "But obviously we hope for better days."
Today, dozens of stone-clad four- to nine-story buildings spill down an arid hillside. The clustered, fortresslike construction resembles some of the 120 Jewish settlements Israel has built across the West Bank in defiance of United Nations resolutions calling them a violation of international law. Each section of Rawabi has a park and playground, and traffic is routed around the perimeter, leaving the center largely car-free. There's a 15,000-seat amphitheater for concerts, a winery, an equestrian center, bungee jumping, and a zip line. A domed mosque is under construction, and a church is planned. Roughly 3,000 people have moved to Rawabi since late 2015; Masri expects the population to ultimately reach 40,000, with more than 3,000 jobs. "They pay attention to all the details," says Iyad Nazzal, who in March moved his family of five to Rawabi after 25 years in Saudi Arabia.
Rawabi—Arabic for "hills"—is a testament to the interest Gulf investors have in a Palestinian state. But until there's peace there's little prospect for profit, so their commitment can waver when Masri asks for more cash in the absence of any resolution to the conflict. While his primary backer, state investment fund Qatari Diar Real Estate Investment Co., may give him "a longer rope than most of us have, the rope is still there, and when it gets pulled he feels it," says Sam Bahour, an economic consultant based in Ramallah, a ramshackle city 10 miles to the south that serves as the de facto Palestinian capital.
A shopping mall, scheduled to open next month in the hilltop town center, illustrates how the bitter standoff with Israel colors every aspect of business in the West Bank. Masri sought an upscale vibe to attract wealthy Palestinians, who often cross into Jordan for shopping excursions, but he says he's had trouble persuading foreign brands to open outlets. Most stores are run by franchisees or supplied by distributors who cover a specific territory. Many licensees for Israel fear violent protests against their business interests in the Palestinian lands, and it's logistically difficult and legally ambiguous for companies that serve Arab countries to add locations there. Masri says that after months of negotiations and offering terms he calls "bending over waaaaay backward," he finally persuaded about a dozen brands—Wrangler, North Face, Vans, and MaxMara among them—to open stores in Rawabi. "Are we a state? Are we part of the Arab Middle East?" asks Masri, who has U.S. citizenship and splits his time between Ramallah and Falls Church, Va. "You can't separate Palestinians from politics. It affects everything we do."
Masri has had similar difficulties promoting Rawabi as a tech center. He's urged Microsoft, Google, and Apple to hire Palestinian programmers in the town, but they haven't committed. At least one Israeli tech company, though, has said it will open an office in Rawabi, and Masri says he's negotiating with others. Nasdaq-traded Mellanox Technologies Ltd., a maker of high-speed data equipment, employs almost 100 Palestinian programmers and plans to move most of them to Rawabi this spring. "We went through three small wars while we employed people in the West Bank, and we continued working as one team," says Mellanox Chief Executive Officer Eyal Waldman. "We hope to continue growing."
Rawabi is by far the Palestinians' biggest infrastructure project, but not all West Bank residents approve, because it requires cooperation with Israel. Masri lays much of the blame for the delays and cost overruns at the feet of Israel's military administration of the West Bank—land Israel says it can build on pending a peace agreement. Palestinians have criticized Masri for "normalizing the occupation," but he says it's unrealistic to build something as ambitious as Rawabi without some degree of Israeli involvement. He sees the town as an example of what can be done if the two sides seek common ground rather than conflict and says it could be a model for similar projects across the West Bank. "When I planned Rawabi, I knew damn well we were under occupation," Masri says. "But if we don't do it, no one else will."
The bottom line: A $1.4 billion development in the West Bank is opening years late, highlighting the difficulties of doing business in a conflict zone.
Before it's here, it's on the Bloomberg Terminal.
LEARN MORE