Trump's Pick to Regulate Banks Is Hardly a Shake-up
Utah investor Randal Quarles is a veteran of both Bush administrations and no Fed stalker.
By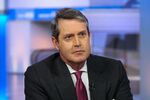 The populist, end-the-Fed wing of the Republican Party isn't going to like President Trump's choice for the critical job of overseeing bank regulation at the Federal Reserve. Randal Quarles, who founded and runs a Utah investment firm named Cynosure Group, is a Wall Street lawyer who worked for both Bush presidents and is married to a member of the powerful and wealthy Eccles family—as in Marriner Eccles, who was chairman of the Federal Reserve from 1934 to 1948.
In other words, Quarles, 59, is an important part of the GOP's financial establishment. Not exactly the type to walk into the Fed's headquarters—aka the Marriner S. Eccles Federal Reserve Board Building—and start channeling Ron or Rand Paul, the father-son anti-Fed duo. "Whatever else he would be, I don't think he would be a disrupter of the Federal Reserve," says Edwin Truman, a nonresident senior fellow at the Peterson Institute for International Economics.
Though his nomination isn't official, on April 17 a person familiar with the selection process confirmed news reports that Quarles will be Trump's pick to be the Fed's vice chairman of supervision, a post created by the Dodd-Frank Act. "The administration is becoming very conventionally Republican," says Gerald O'Driscoll, a senior fellow at the Cato Institute. "There were all sorts of people on the list" of potential nominees "who would have stirred things up."
President Barack Obama never nominated anyone for the job. Instead, Fed governor Daniel Tarullo, a liberal Democrat, informally filled the role. A protégé of the late Senator Ted Kennedy of Massachusetts, Tarullo had a testy relationship with chief executives of big banks, including JPMorgan Chase & Co.'s Jamie Dimon, who accused him of being unnecessarily harsh. Tarullo announced his resignation in February, effective this month.

Quarles marks a big change from Tarullo. He favors lightening regulation of banks, curbing mortgage giants Fannie Mae and Freddie Mac, and using explicit rules to conduct monetary policy, according to his own writings and interviews with analysts. "He sees things clearly without being an ideologue," says Lawrence Uhlick, a former president of the Institute of International Bankers, who dealt with him when Quarles worked for George W. Bush's Treasury Department and when he represented banks as a senior lawyer at Davis Polk & Wardwell.
Quarles will have a lot of discretion over the annual stress tests of major banks, which the Fed conducts to ensure they can withstand a severe financial crisis without needing a bailout. Bank CEOs complained that under Tarullo, stress tests were not only too tough but too unpredictable. "That's an area where we will see a shift in ideology, and he could do it himself," says Isaac Boltansky, an analyst at Compass Point Research & Trading LLC.
Quarles told Bloomberg TV in 2015 that the Volcker Rule, which is supposed to keep deposit-taking institutions from trading for their own profit, was "not well-designed." That's what a lot of people have been saying lately, including Tarullo, who in his valedictory speech on April 4 said the Volcker Rule is too complicated and "may be having a deleterious effect on market-making."
Last year Quarles co-wrote a Wall Street Journal op-ed disagreeing with Minneapolis Federal Reserve Bank President Neel Kashkari, who wants the biggest banks to have much wider safety margins, calculated by the value of assets vs. liabilities. Quarles and Lawrence Goodman, president of the Center for Financial Stability, said that demanding more capital would slow economic growth. Policymakers, they wrote, should "fully measure and evaluate the impact of Dodd-Frank on the financial system before arbitrarily taking an ax to big banks and irreparably damaging the economy." The same op-ed called for the Fed to be more formulaic in setting interest rates by following a rule such as the one propounded by Stanford economist John Taylor. Quarles served under Taylor when Taylor was George W. Bush's undersecretary of the Treasury for international affairs.
One thing Quarles won't do is threaten the Fed's existence. In 2014 bronze sculptures of Eccles, the former Fed chief, were installed at Fed headquarters and on the grounds of the Utah State Capitol. Quarles and his wife, Hope Eccles, whose grandfather was Marriner's brother, helped pay for the memorials.
The bottom line: Trump's pick as the Fed's top bank regulator may try to scale back the Volcker Rule and stress tests.
Before it's here, it's on the Bloomberg Terminal.
LEARN MORE