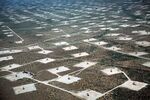 In a matter of weeks, crews working for Exxon's XTO Energy Inc. unit will begin erecting drilling rigs across a patch of southeast New Mexico to exploit the region's mile-thick strata of oil-soaked rock. ExxonMobil Corp. paid almost $6 billion for the drilling rights in late February—its biggest acquisition in more than six years—but that's where the parent company's involvement ends: Decisions on when and how to harvest the crude fall solely on the shale experts at XTO.
Exxon Chief Executive Officer Darren Woods and his top lieutenants at corporate headquarters in suburban Dallas are intentionally staying out of the way of the tightly knit phalanx of XTO engineers, physicists, and geologists leading the oil major's advance into shale. Based largely in the Texas cities of Fort Worth and Midland, XTO's 5,000-person staff has been exempt from many of the centralized bureaucratic and planning structures of their overlords since Exxon acquired XTO for $35 billion in 2010, according to people with knowledge of the arrangements who weren't authorized to speak publicly.
Exxon's policy of benign neglect is one it shares with other oil giants such as Chevron Corp., which has set up its own "dedicated shale team" that operates like a quasi-independent unit, according to Noah Barrett, an analyst at Janus Capital Group Inc. The top-down and heavily structured approaches they use on megaprojects—building a liquefied gas export complex or pumping crude that lies miles beneath the sea surface—won't work with shale. Rigs and roughnecks must be hired or moved at a moment's notice in response to emerging opportunities or volatile crude prices. "Historically, the major operators have been slower-moving beasts," Barrett says. But in the age of shale, "the ability to be flexible is a huge advantage."
To that end, XTO managers aren't constrained by the purchasing order system that governs project spending at the rest of Exxon, the people said. The practice, conceived for projects that can take a decade to build and cost $50 billion, is too burdensome for shale's $6 million wells, which can be up and running within weeks. XTO's special dispensation means it can hire a bulldozer to clear a drilling site or summon a fracking crew to complete a well without enduring the monthslong wait for signoffs by multiple layers of middle and upper management. XTO planners are also free from the usual Exxon practice of submitting—and strictly adhering to—12-month operating blueprints that undergo arduous vetting and amendment as they make their way through manifold HQ filters.
For Woods, who was elevated to CEO in January when his mentor, Rex Tillerson, was tapped for the job of U.S. secretary of state, the experiment is fraught with peril. About one-third of Exxon's drilling budget will be entrusted to XTO's shale projects this year; in 2018 that rises to 50 percent. The expected payoff is a projected increase in Exxon's shale output of 20 percent a year through 2025.
If the gamble pays off, it'll go a long way to reversing a series of recent setbacks for Exxon. These include the loss last year of the company's platinum credit rating; the erasure of $154 billion in future cash flow as the oil price slump turned some fields into money losers; and international sanctions that have placed Exxon's $1 billion investment in Russia's Arctic in limbo for the past two and a half years.
In the February deal, Exxon won control over 275,000 acres, including a quarter-million in the Delaware region of the Permian Basin, the object of some of the global energy industry's most frenzied dealmaking. According to sources, it took almost two years of negotiations with the Bass clan of Fort Worth wildcatters to bring it off. The family received $5.6 billion in Exxon stock and is entitled to contingent cash payouts of as much as $1 billion over the next 15 years. At around $24,000 an acre, the price for those rights is a fraction of the $60,000 QEP Resources Inc. shelled out last year for Permian drilling rights. XTO will deploy 15 new rigs, which will more than double the size of Exxon's fleet of rigs in the Permian Basin.
While it may have a hands-off policy, Exxon is closely watching XTO via management. The company appointed a 30-year veteran, Jack Williams, to head the unit post-merger. Williams, who was also a contender to succeed Tillerson, is now a member of the five-man inner circle that runs Exxon worldwide. XTO's current president, Sara Ortwein, is also an Exxon lifer. A civil engineer, she joined the company in 1980 and cut her teeth in Russia and Central Asia before landing at XTO in November.
 
—With David Wethe
The bottom line: Exxon is projecting a 20 percent a year increase in crude output through 2025 from shale properties overseen by its XTO unit.
Before it's here, it's on the Bloomberg Terminal.
LEARN MORE