markets
S&P 500 Profit Generators Under Threat From Peak Inflation
By
Banks, energy forecast to contribute half of overall growth

Their prospects are now being overshadowed by yields and oil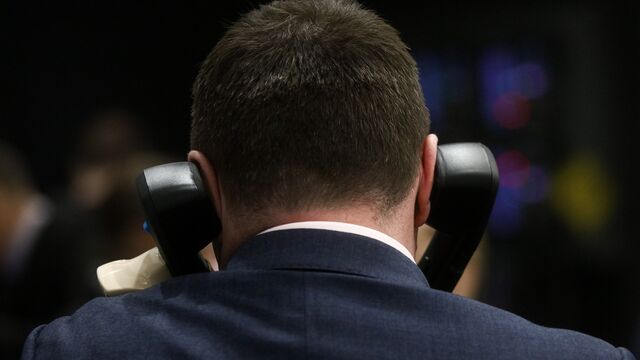 The engine of the U.S. earnings recovery that's underpinned stock gains this year is starting to sputter.
Financial and energy companies are forecast to account for almost 50 percent of the S&P 500 Index's profit growth in the first six months of the year thanks to anticipated gains in consumer and energy prices. But the chances those sectors meet those targets have dimmed as Treasury yields revert to levels last seen in 2016 and crude slumps back toward $50 a barrel.
"The rolling over of inflation expectations and commodity prices presents unique risks for sectors that were large contributors to better earnings expectations," said Alex Bellefleur, head of global macro research and strategy at Pavilion Global Markets Ltd. in Montreal. "The risk is that markets begin to reassess the forward earnings picture and turn a little less optimistic."

Any indication that earnings growth may fall short of the lofty predictions priced into stocks would deprive the market of one its most reliable boosters over the past six months, especially as the Trump administration struggles to make headway on tax and spending policies. 
While decelerating price growth is already raising concern that the expansion of the broader economy may be slowing, a drop in the rate of inflation poses a particular threat to large banks, since faster price increases mean a steeper yield curve that boosts lending income. Pavilion found that estimates on bank earnings have historically tracked inflation expectations closely.  Consumer prices excluding food and energy fell in March for first time since January 2010.
At the same time, oil's rebound since last February that has propelled the energy industry's return to profit is showing signs of petering out. Crude fell more than 4 percent Wednesday and earlier in April failed in several attempts to rise past $55 a barrel. That means positive revisions to oil and gas company earnings may be over, according to Pavilion.

For Laurence D. Fink, chief executive officer of BlackRock Inc., a miss on profit estimates leaves the equity market vulnerable to a drop of 5 to 10 percent. Stocks need validation that U.S. corporate earnings will stay strong and that the policies of President Donald Trump will move forward in Congress in order to move higher, he said in an interview Wednesday on Bloomberg Television.
Watch more: Fink discusses earnings season on Bloomberg TV.
For now, analysts still see banks and energy driving a big portion of the overall earnings growth. While S&P 500 profits are forecast to increase 9.7 percent in the first quarter and 8.8 percent in the April-June period, the pace would have slowed to less than 5 percent without the two industries, data compiled by Bloomberg show.
Their share prices are showing less resilience. Since the S&P 500 reached its all-time high on March 1, financial and energy stocks have fallen more than 5 percent, the worst among the index's 11 main industries. That's a reversal from the previous 12 months, when the market emerged from a deflation scare and cyclical shares like banks led the rally.
"As the reflationary story took hold, markets really reassessed the earnings potential for all these inflation-sensitive sectors," Bellefleur said. "Our take now is that there is some amount of risk to the reflationary story in the short term that markets will not feel positively about."
— With assistance by Wendy Soong, and Bob Brennan
Before it's here, it's on the Bloomberg Terminal.
LEARN MORE