business
Should DeVos Block an Embattled Student Loan Giant's Expansion?
Months after state and federal regulators sued Navient Corp. for "systematically" cheating student debtors, the company wants to add more borrowers.
By and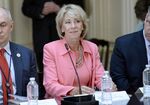 Student loan giant Navient Corp. shouldn't be allowed to buy $3.7 billion of federal student loans from JPMorgan Chase & Co., current and former government officials have said, because pending government allegations of wrongdoing against the company raise concerns that new customers would similarly be mistreated.
David Bergeron, a former senior U.S. Department of Education official who served under Republican and Democratic administrations, called on Education Secretary Betsy DeVos to block the planned transaction.
Navient, the nation's largest student loan company, announced on Tuesday that it had struck an agreement with JPMorgan to purchase the bank's $6.9 billion portfolio of student loans, half of them guaranteed by the federal government under a since-discontinued lending program. Navient has been trying to boost its holdings of government-guaranteed student debt—Congress voted to eliminate the bank-based Federal Family Education Loan program in 2010—as older loans are repaid and revenue dwindles. The company would gain some 385,000 borrowers under the deal, which Navient expects to finalize by the end of June, Chief Executive Officer Jack Remondi said on Wednesday.
The proposed transaction comes three months after the federal Consumer Financial Protection Bureau, or CFPB, and state attorneys general in Illinois and Washington sued Navient, alleging methodical abuse of borrowers at nearly every step of the repayment process. The company collects monthly payments for 12 million borrowers and counsels them on repayment options. Authorities accused Navient of cheating student debtors for years by taking shortcuts to minimize its own costs. Navient has vigorously denied the allegations.
Allowing Navient to grow larger would be a serious mistake, according to Illinois Attorney General Lisa Madigan. The Education Department should use its existing authority to scuttle the transaction, said Bergeron, who retired as the head of postsecondary education in 2013 after more than 30 years at the Department of Education.
"It's shocking that Navient could be allowed to take on a greater number of student loans when it has already failed so many Americans struggling to repay their loans," Madigan said.
Regulators have stepped up oversight of student loans in recent years as more Americans struggle to repay debt and complaints of shoddy loan servicing practices skyrocketed. The CFPB has said the student loan market is tainted by "widespread failures." One in six American adults has a student loan, and there are nearly as many student debtors as there are home mortgages, government data show. At least one in four of the nation's roughly 44 million student debtors are either in default or more than 30 days late on required payments.
Navient spokeswoman Nikki Lavoie said the company's proposed purchase "is a win for borrowers. Navient has a well-established, superior track record of helping student loan borrowers succeed in repayment."
Regulators have a different view, and have likened Navient's alleged practices to those of mortgage companies before, during, and after the 2007-09 financial crisis, when lenders made loans they suspected would fail, ignored or misled struggling borrowers asking for help, and then wrongly skirted legal requirements after debtors had fallen behind on loans.
In one prominent example, the CFPB alleged, Navient added billions to borrowers' loan balances when it "systematically" steered distressed borrowers facing long-term hardship into payment plans that temporarily postponed bills, rather than helping them enroll in broadly available plans that cap payments relative to income and offer the possibility of debt forgiveness. Navient did this, authorities say, because it was cheaper for the company: Debtors can enroll in so-called forbearance plans over the phone, while income-based plans require paperwork.
The gravity of the allegations and the pending nature of the government lawsuits should be enough to convince the Education Department to use its power to sink the sale, Bergeron said. "It would be a very bad idea for Navient to acquire any more loans until they sort out their legal problems," he said.
The department could stop the sale by threatening to name Navient an ineligible owner of government-guaranteed student loans, Bergeron said.
If authorities stop the sale, the move would be comparable to regulators blocking large transfers of home loans between big banks and mortgage companies such as Ocwen Financial Corp., which on Thursday was again blocked from acquiring new accounts after state and federal regulators accused the company of similarly dodgy practices that have harmed borrowers in recent years.
Pamela Moran, another former senior Education Department official, agreed that the department has the authority to prevent Navient's purchase, but she couldn't recall the department ever having blocked such transfers. Moran, now an adviser to Massachusetts Higher Education Assistance Corp., a Boston-based nonprofit known as American Student Assistance, said it was unlikely the Education Department would do so now.
Federal regulators, including the CFPB, were told about Navient's plan to purchase JPMorgan's loans prior to its announcement, Lavoie said. JPMorgan determined that government approval wasn't required, spokeswoman Shannon O'Reilly said. CFPB spokesman David Mayorga declined to comment.
Last week, DeVos canceled late Obama-era plans to overhaul how Education Department contractors collect on government-owned student loans, changing the focus of the next round of contracts from significantly improved customer service to cost-curbing. Last month, she reversed a separate Obama administration directive limiting fees that companies slapped on defaulted government-guaranteed student loans. DeVos spokesmen Jim Bradshaw and Matthew Frendewey didn't respond to requests for comment.
"The impact of this sale could be devastating to student borrowers' futures and our economy," Madigan said. "Particularly if the Department of Education abandons its oversight of servicers."
Before it's here, it's on the Bloomberg Terminal.
LEARN MORE