politics
Australia's Bishop Unimpressed by Trump's 'Good Shape' Remark
By
Says comment to French first lady Macron 'rather interesting'

'I wonder if she could say the same of him?' Bishop tells ABC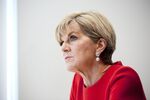 Australian Foreign Minister Julie Bishop has questioned U.S. President Donald Trump's remarks about French first lady Brigitte Macron's physical appearance, saying she would be "taken aback" if Trump said something similar to her.
During a visit to France last week, Trump told Macron she was "in such good shape." Speaking on ABC's Insiders program Sunday, Bishop said: "It's a rather interesting comment to make. I wonder if she could say the same of him?"
Bishop declined to comment further when asked if Trump was being condescending toward the French President's wife. 
Relations between Trump and the Australian government got off to a rocky start after the newly elected U.S. President blasted a refugee resettlement plan negotiated by predecessor Barack Obama, calling it a "dumb deal." That came after the Washington Post reported that Trump berated Australian Prime Minister Malcolm Turnbull in a phone call and "abruptly ended" their conversation.
Last month, leaked footage of a closed-door speech by Turnbull showed him lampooning Trump.
Before it's here, it's on the Bloomberg Terminal.
LEARN MORE