Real Estate
Moving to Munich? What You Need to Know About Bavaria's Quiet Jewel
The housing stock is lovely—with stately historic buildings lining sleepy streets—but apartments go fast, so be ready to leap.
By
Moving to Munich? What You Need to Know About Bavaria's Quiet Jewel
The housing stock is lovely—with stately historic buildings lining sleepy streets—but apartments go fast, so be ready to leap.
By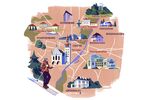 Berlin might be cooler, and Frankfurt might have more buzz, but Munich, located about 45 minutes by car from the Alps, boasts a ­superior quality of living. Its manicured parks, quiet streets, discreet baroque palaces, and profusion of excellent restaurants make it one of the most desirable cities in Europe. And industry is growing: Microsoft, Siemens, and Google have all recently opened new offices there.
"Munich itself is very charming," says Leslie von Wangenheim, a resident who works in the marketing department of real estate brokerage Duken & v. Wangenheim AG. "There are no high towers. It's definitely not an ultra-urban-type environment."
The absence of high-density living in this city of 1.5 million means that prime housing stock is in short supply. "It's a very tight market," says Constantin von Preysing, director of the real estate agency Engel & Völkers München GmbH. "It's not like you have a wide variety of houses to choose from—­especially in the city center, you have to jump on whatever comes on the market."

A January report by Deutsche Bank AG found that 45,000 homes were built from 2011 to 2016 that can house about 90,000 people; over the same period, the city's population rose by 200,000. "The vacancy rate tends to hover around the zero mark," the report said. "Munich, Germany's most expensive city, has seen property prices more than double in the current cycle, with further increases expected in the coming years."
The three most desirable areas in the city center are Bogenhausen, a neighborhood east of the sprawling English Garden; Herzogpark, a narrow enclave nestled between the two; and Nymphenburg, a region in the west that surrounds Nymphenburg Palace, the former summer residence of Bavarian kings.
There are other popular spots: Schwabing  in the city center is a neighborhood that includes the Ludwig-Maximilians University  and is favored by younger, affluent buyers; the Grünwald is an extremely wealthy suburban neighborhood in the south populated by Munich's older, aristocratic class.

"The most famous area is probably Herzogpark," von Wangenheim says. "If you're looking to live where the beautiful people do, that's where you should go." She adds that the buildings there tend to be newer and offer more amenities. Alt-Bogenhausen, the fanciest part of the desirable Bogenhausen area, in contrast, "is where the beautiful Jugendstil [art nouveau] houses are," von Wangenheim says. Both neighborhoods are "a hop, skip, and a jump from the A8," the highway taking you from Munich to ski areas in Austria and northern Italy. "And that matters," she says, "because if you're in Munich, you're inevitably a skier." 
In the city center, the majority of housing is apartments, though there are a few areas—notably Alt-Bogenhausen—where there are a small number of lovely town houses and standalone villas.

In Herzogpark, Nymphenburg, and Bogenhausen, "there's been a lot of development in the last five years, especially in terms of building high-level, classy apartments," von Wangenheim says. A building under construction in Bogenhausen called T19 has two-bedroom apartments starting at €1.6 million ($1.8 million); another under construction, Edition 14, with 24 units, ranges from €840,000 for a 55-square-meter (592-square-feet) apartment to €2.5 million for a 200-sq-m residence.
Many Munich apartments were built either in the gracious proportions of the late 19th or early 20th centuries, or with large floor plans popular in the relatively flush boom times of the 1960s, during West Germany's resurgence. Ceiling heights tend to soar above 10 feet, and windows are large. In prewar apartment buildings and villas, there's a preponderance of plaster ornament on ceilings and walls.

Farther out in the Grünwald, the properties are "much larger and much greener, with high walls" around their gardens, says von Wangenheim. "It's where old, fancy ­families used to live." Now, though, in a demographic shift, older people are finding their homes too large and are relocating to the city center. "Munich was never a city where people lived downtown," she says. "But that's changing."
New construction in the city generally costs more than ­residences in prewar buildings, Engel & Völkers' von Preysing says. Prices in general start at about €8,500 a square meter and go to about €20,000. The low end of that would be for prewar buildings that might be in need of updates or renovation or simply lack the amenities of new construction. For about €440,000, "you'd get a first-floor apartment, not super-inner city, but still in a good or cool area," says von Preysing. "A nice flat."

For new construction in the city center, von Preysing says buyers should expect to pay from €15,000 to €20,000 a square meter, which means a spacious two-bedroom would cost €1.3 million to €2.2 million. Renting the same type of two-­bedroom would be from €2,600 to €4,800 a month.
"Even at the top of Munich's market," von Preysing says, "it's nothing compared to London or New York."
(
Corrects captions for properties in Grünwald and Alt-Bogenhausen
)