politics
Nuclear War With North Korea Not Looming, U.S. Officials Say
By , , and
Comments follow tough rhetoric by Pyongyang and Washington

Top U.S. general to meet South Korean leader amid tensions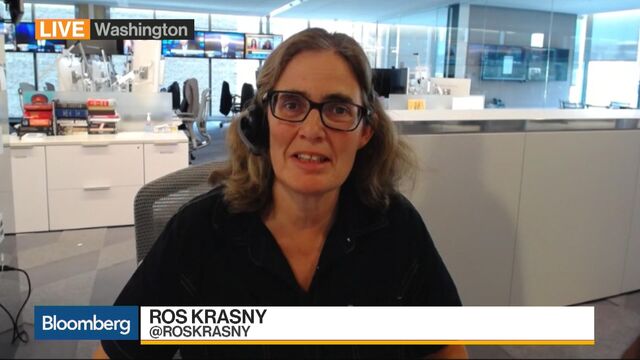 Two top U.S. national security officials sought to tamp down fears of imminent nuclear war with North Korea following days of heightened rhetoric by President Donald Trump, as America's top general prepares to meet with South Korea's leader.
There's no indication war will break out, Central Intelligence Agency Director Mike Pompeo and national security adviser H.R. McMaster said in separate Sunday talk show appearances. They both walked a fine line of backing the tough talk directed at Pyongyang, but not wanting to raise the alarm at home.
"I've heard folks talking about that we're on the cusp of a nuclear war," Pompeo said on "Fox News Sunday." "I've seen no intelligence that would indicate that we're in that place today."
The comments helped ease worries emanating from an escalation of tensions between the U.S. and North Korea. Shares in Asia outside Japan on Monday climbed together with U.S. equity-index futures, with South Korea's benchmark index rising as much as 1 percent.
Pompeo said that U.S. intelligence has a "pretty good idea" about North Korea's near-term intentions after monitoring recent intercontinental missile tests and the country's improved ability to manufacture nuclear weapons.
McMaster, appearing on ABC's "This Week," said "we're not closer to war than a week ago, but we are closer to war than we were a decade ago."
Just days ago, Trump said military options against North Korea were "locked and loaded." That stoked fears that a miscalculation between the nations would spark an actual military conflict.
Some analysts expect further escalation in the coming days as both North and South Korea celebrate the Aug. 15 anniversary of the end of Japan's occupation of the Korean peninsula, and the latter conducts joint military exercises with the U.S. from Aug. 21. Japan is also holding annual military drills with the U.S. over the next few weeks.
General Joseph Dunford, chairman of the U.S. Joint Chiefs of Staff, plans to meet with South Korean President Moon Jae-in on Monday ahead of a trip to China.
North Korea's state-run media on Sunday condemned the planned military drills and said the U.S. is "letting out dangerous war rhetoric." The Korean Central News Agency added that Trump's "wild remarks" are causing concern and anger in South Korea.
The U.S. hasn't taken any public steps to prepare for hostilities, including evacuating Americans from Seoul, which is within range of North Korean artillery, or moving ships, aircraft or troops into position for an imminent response. The U.S. has about 28,500 troops stationed in South Korea.
Read more on signs that a war may be coming
Following Trump's vow to unleash "fire and fury" on North Korea, Kim's regime threatened to fire four Hwasong-12 missiles over Japan into waters near Guam, home to U.S. military bases in the region. The U.S. and its allies warned Kim against such a move, and Japan deployed four Patriot missile interceptors into the western part of the country.
Pompeo and McMaster defended Trump's sometimes personal message aimed at Kim.
Trump "made clear that the United States will not tolerate our citizens or our allies being threatened by this rogue regime," McMaster said. "Our response is we are prepared militarily to deal with this if necessary."
Pompeo said Trump's comments were designed to send an unambiguous message to the country that it needs to disarm its nuclear weapons and that the U.S. won't tolerate a first strike. When asked whether he was confident Kim would heed that message, he said: "It's a very difficult situation in North Korea."
Some former military and intelligence officials questioned whether the harsh rhetoric from the Trump administration is the right approach.

'Maneuver Space'
Retired Admiral Mike Mullen, who served as chairman of the Joint Chiefs of Staff under Democrat and Republican presidents, said on NBC's "Meet the Press" that Trump's rhetoric "eliminates maneuver space" in how the U.S. might respond to North Korea.
"I'm really concerned because I don't know where this goes in terms of a peaceful solution," Mullen said. Still, he said that Kim knows if North Korea were ever to use nuclear weapons, "that basically is an act of suicide from him, because we would eliminate him and his regime immediately."
James Clapper, director of national intelligence under President Barack Obama, said "we don't understand exactly what the decision-making mechanisms are, processes, surrounding Kim Jong Un in North Korea or what would set him off."
"That's why I think many people, myself included, would argue for more temperate language than the fire and fury," he said on CNN's "State of the Union."
While Trump's goal of North Korea abandoning its nuclear weapons may be appealing, it's unrealistic, Clapper said.
"That is their ticket to survival, and I don't see any way that they're going to give it up," he said. "Our thought process here ought to be on accepting it and trying to cap it or control it."
Before it's here, it's on the Bloomberg Terminal.
LEARN MORE