politics
Stung by Criticism, White House Says Trump Abhors Neo-Nazis
By , , and
Bipartisan disapproval of response to Charlottesville protests

One dead in car-ramming incident as FBI opens investigation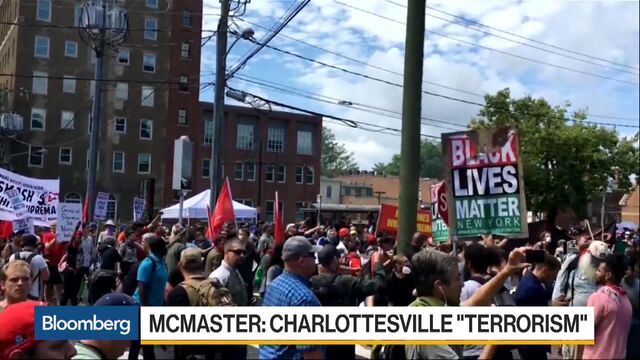 Follow @bpolitics for all the latest news, and sign up for our daily Balance of Power newsletter.
Donald Trump faced a second day of criticism after failing to personally denounce white nationalists, neo-Nazis and others who held a rally in Virginia that ended with a deadly car-ramming attack on pedestrians.
Following an uproar from lawmakers in both parties and many civil rights groups, the White House released a statement Sunday saying that the president condemns "all forms of violence, bigotry and hatred, and of course that includes white Supremacists, KKK, neo-Nazi and all extremist groups." Vice President Mike Pence made similar remarks at a press conference Sunday in Cartagena, Colombia, after arriving on the first stop of a Latin American trip.
The president's daughter and senior adviser, Ivanka Trump, tweeted Sunday that "there should be no place in society for racism, white supremacy and neo-Nazis," while National Security Advisor H.R. McMaster called the ramming incident domestic terrorism.
Still, critics wanted to hear the sentiment from Trump himself. "It's something that needs to come from the Oval Office and this White House needs to do it today," Senator Cory Gardner, Republican of Colorado, said on CNN's "State of the Union."

Clashes on Saturday between groups protesting the city of Charlottesville's decision to remove a statue of Confederate General Robert E. Lee, and those opposed to the rally, left more than a dozen people injured.
Television images showed police in riot gear among the crowd, and some of the protesters chanted anti-Semitic slogans. Three people later died, including two state troopers killed in a helicopter crash after responding to the scene. The Federal Bureau of Investigation opened a civil-rights probe into the driver of a car who slammed into a crowd of counter-protesters, killing one and injuring over a dozen.
The investigation is also looking at whether others were involved in planning the attack, according to a Justice Department official familiar with the probe.
'Come Together'
In his initial response via Twitter, Trump said, "We ALL must be united & condemn all that hate stands for. There is no place for this kind of violence in America. Lets come together as one!" Trump also called for "a swift restoration of law and order."
But later, during a bill-signing ceremony in Bedminster, New Jersey, Trump described Saturday's rally as an "egregious display of hatred, bigotry, violence -- on many sides." That suggested the president was placing equal blame on the white nationalists and neo-Nazi groups that organized the event, and those protesting them.
"We have no tolerance for hate and violence from white supremacists, neo-Nazis or the KKK," Pence said at his press conference in Colombia. "These dangerous fringe groups have no place in American public life and in the American debate, and we condemn them in the strongest possible terms.
"The president also made clear that behavior by others of different militant perspectives are also unacceptable in our political debate and discourse."
Pence also criticized media coverage of Trump's reaction, saying it should have been focused on the actions of extremist groups. 
"We should be putting the attention where it belongs, and that is on those extremist groups that need to be pushed out of the public debate entirely and discredited for the hate groups and dangerous fringe groups that they are," Pence said.
Initial intimations of equivalence of blame didn't sit well with two of the most senior Republicans in the Senate, John McCain of Arizona and Orrin Hatch of Utah. McCain said Saturday's events marked "a confrontation between our better angels and our worst demons," while Hatch said, "My brother didn't give his life fighting Hitler for Nazi ideas to go unchallenged here at home."

Singling Out


"Donald Trump mocked Barack Obama for not calling Islamic Terrorism by its name. Now HE must call White Supremacy Terrorism by its name," tweeted Joe Scarborough, the MSNBC "Morning Joe" co-host and former Republican congressman from Florida.
Charlottesville Mayor Mike Signer also called it terrorism on NBC's "Meet the Press," and laid blame on Trump for "intentional courting" of right-wing extremist groups and then failing to "put to bed all those different efforts."
Murder Charge

A 32-year-old woman died and 19 sustained injuries ranging from minor to life-threatening in the car-ramming incident, which had echoes of deadly attacks in London this year, France in 2016, and other places.

The city government identified the driver of the vehicle, a Dodge Challenger, as James Alex Fields Jr., 20, of Maumee, Ohio. He's been charged with one count of second-degree murder, three counts of malicious wounding and one of a hit-and-run.
Photographs from Saturday's rally showed Fields standing with members of the group Vanguard America, which is described by the Anti-Defamation league as white supremacists with ties to the neo-Nazi movement.
Virginia Governor Terry McAuliffe, a Democrat, declared a state of emergency on Saturday after violent run-ins between thousands of the demonstrators, counter-protesters and supporters of the activist group Black Lives Matter.
At a press conference, McAuliffe addressed "the white supremacists and the Nazis who came into Charlottesville today -- our message is plain and simple: go home. You are not wanted in this great Commonwealth. Shame on you."
'White Americans'
The Southern Poverty Law Center, a civil rights group based in Montgomery, Alabama, sent a blast fund-raising email calling Trump's comments about unity "hollow."
One of the best-known white supremacists in the U.S, former Ku Klux Klan leader and Louisiana lawmaker David Duke, tweeted at Trump: "I would recommend you take a good look in the mirror & remember it was White Americans who put you in the presidency, not radical leftists."
Lawmakers piled on.
"Make no mistake –- these insidious psychologies have been given license to be brought out in the open air by a president that openly seized upon these hatreds during his campaign, and continues to traffic in divisive rhetoric and hateful policies in the White House," Senator Chris Murphy, a Connecticut Democrat, said in a statement.
The Congressional Black Caucus tweeted that Trump's "false equivalency, dog whistles are sad. White supremacy is to blame."
"There are not two sides to this situation," House Minority Whip Steny Hoyer, a Maryland Democrat, said in a statement. "We must condemn racism and unite as a nation around our common principles of tolerance, respect, and equality for all." House Minority Leader Nancy Pelosi, a California Democrat, said "talk of violence 'on many sides' ignores the shameful reality of white supremacism in our country today, and continues a disturbing pattern of complacency."
And Representative Ileana Ros-Lehtinen of Florida, a Republican, said on Twitter that "White supremacists, Neo-Nazis and anti-Semites are the antithesis of our American values. There are no other 'sides' to hatred and bigotry."
Anthony Scaramucci, fired in July after 10 days as White House communications director, said Trump didn't do enough. "I wouldn't have recommended that statement," he said on ABC's "This Week" of Trump's words on Saturday from Bedminster. "I think he would have needed to have been much harsher."
— With assistance by Laura J Keller, and Shannon Pettypiece
(
Updates with Pence, Justice official starting in second paragraph.
)
Before it's here, it's on the Bloomberg Terminal.
LEARN MORE