politics
Trump Administration Sued Over Phone Searches at U.S. Border
By
U.S. citizens say their devices were searched without warrants

ACLU suit adds to list of legal challenges to Trump policies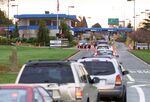 The Trump administration is increasingly allowing federal border agents to seize and search -- sometimes violently -- the mobile phones and laptops of thousands of U.S. citizens and lawful immigrants as they enter the country, two advocacy groups said in a lawsuit.
The searches at airports and land borders are being carried out without warrants in violation of the Constitution's privacy and free-speech provisions, the American Civil Liberties Union and the Electronic Frontier Foundation said in a complaint filed Wednesday in federal court in Boston.
Ten U.S. citizens and one immigrant are represented in the suit -- among them a military veteran, a journalist and a NASA engineer, the rights groups said in a statement. Several of the citizens are Muslims or people of color.
The lawsuit adds to a growing list of legal challenges to President Donald Trump's immigration agenda, including a travel ban against several Muslim-majority countries and the halt to a federal program allowing undocumented immigrants who were brought to the U.S. as children, known as Dreamers, to avoid deportation. The administration argues the steps are needed to improve security and stop terrorism, but rights groups say there are limits.
"The government cannot use the border as a dragnet to search through our private data," ACLU attorney Esha Bhandari said in the statement.
Previous legal disputes over border searches of electronic devices have had mixed results depending in part on whether the inspections were carried out manually or with help from powerful forensic software. In 2013, for instance, the federal appeals court in San Francisco affirmed that a traveler's laptop could be searched forensically without a warrant because agents had a "reasonable suspicion." But that finding doesn't apply nationwide. The U.S. Supreme Court hasn't weighed in on the issue.
Physically Restrained
One plaintiff in the new lawsuit, independent filmmaker Akram Shibly, declined to give his phone to border agents while he was returning to the U.S. after a social outing in the Toronto area in January, the rights groups said. The officers then physically restrained him and took his phone from his pocket, with one agent choking him and another holding his legs, the suit says.
"I joined this lawsuit so other people don't have to have to go through what happened to me," said Shibly, who is from upstate New York. "Border agents should not be able to coerce people into providing access to their phones, physically or otherwise."
The lawsuit names as defendants the acting heads of the Department of Homeland Security, Customs and Border Protection and Immigration and Customs Enforcement. Homeland Security spokesman David Lapan and ICE spokeswoman Sarah Rodriguez declined to comment.
On its website, Customs and Border Protection states it has the authority to search "all persons, baggage, and merchandise arriving in, or departing from, the United States." The policy has been in place since at least 2009.
Electronic devices deserve more protection at an airport or a border crossing than a suitcase or a purse due to the "massive" amounts of personal information may they contain, such as messages to loved ones and private photographs, as well as sensitive medical, legal and financial information, according to the complaint.
Searches Increasing
Such searches are increasing. Border agents conducted almost 15,000 searches of electronic devices in the first half of 2017, putting the agency on track to conduct about 30,000 searches this fiscal year, the ACLU said, citing government data. That compares to about 8,500 searches in 2015, according to the suit.
The ACLU cited a 2014 U.S. Supreme Court ruling in which the justices unanimously rejected the government's argument that searching the contents an individual's mobile phone following an arrest is the same as searching that person's other physical items that don't require a warrant.
"That is like saying a ride on horseback is materially indistinguishable from a flight to the moon," the Supreme Court said in the ruling. "Both are ways of getting from point A to point B, but little else justifies lumping them together."
In March, Joseph Maher, Homeland Security's acting general counsel, wrote an op-ed in USA Today saying that no court has ruled against the agency's use of warrant-less searches of electronic devices at the border. Even so, Maher wrote, the searches affect less than one-hundredth of 1 percent of all travelers arriving in the U.S.
The rights groups claim border agents use coercive tactics to get the passwords of travelers' mobile devices, such as threatening to confiscate them for months, according to the suit. Officers sometimes keep the devices anyway after carrying out the searches, the groups said.
Other plaintiffs in the case include: Massachusetts limousine driver Ghassan Alasaad and his wife Nadia Alasaad, a nursing student; Suhaib Allababidi, a Texas business owner whose security technology clients include the federal government; Sidd Bikkannavar, an optical engineer for NASA's Jet Propulsion Laboratory in California; and journalist Jeremy Dupin.
The case is Alasaad v. Duke, 1:17-cv-11730, U.S. District Court, District of Massachusetts (Boston).
(
Updates with 2014 Supreme Court case.
)
Before it's here, it's on the Bloomberg Terminal.
LEARN MORE