politics
Trump Invites Pelosi and Schumer to Dinner
By
Mulvaney says there are Democrats willing to support tax plan

President struck deal with Pelosi, Schumer on debt last week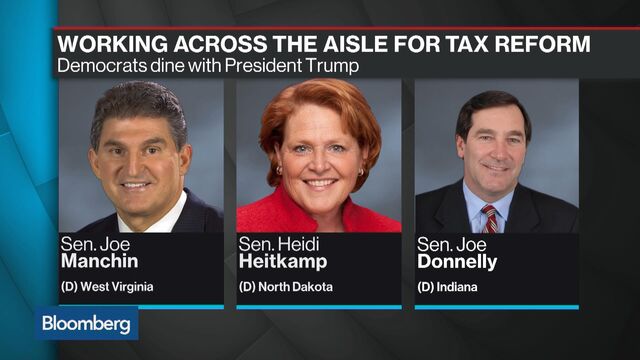 Follow @bpolitics for all the latest news, and sign up for our daily Balance of Power newsletter.
President Donald Trump has invited the Democratic leaders of the House and Senate, Nancy Pelosi and Chuck Schumer, to dine with him at the White House on Wednesday, two people familiar with the matter said.
Pelosi and Schumer plan to lobby Trump to renew protections against deportation for immigrants brought illegally to the U.S. by their parents and to stabilize Obamacare's health insurance markets, one of the people said. Trump meanwhile is trying to rally congressional support for a tax overhaul, including a substantial reduction of the corporate income tax rate.
Trump struck a deal with the two Democrats last week to avert both a potential default on the nation's debt and a government shutdown until December.
Watch Next: Trump, Democrats Talk Taxes at White House Dinner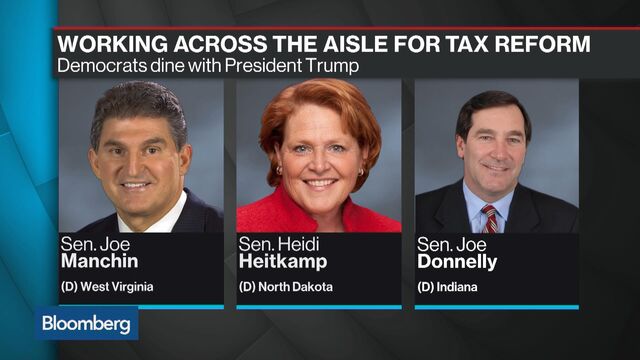 The so-called Big Six, a group of Republican congressional leaders and administration officials that's negotiating a tax overhaul is targeting Sept. 25 to release a consensus outline, White House Budget Director Mick Mulvaney said on Wednesday. The group includes the Speaker of the House and the Senate Majority Leader, the chairmen of the congressional tax-writing committees, Treasury Secretary Steven Mnuchin and Trump's chief economic adviser Gary Cohn.
Mulvaney said that Trump is trying to determine whether any Democrats will work with him on tax legislation; he met Tuesday evening with three Senate Democrats who face re-election in states the president won last year.
"It's more of a question of: 'are you interested in working working with us on tax reform?' And I think the answer is uniformly yes," Mulvaney said. "I think if the Democrats get beyond the talking point that a corporate tax reduction is a handout to the wealthy. Their problem, of course, is they're so married to that rhetoric that it would be hard for them to do anything else.
"The question is will they have the political courage to look at the principles and the substance of the proposal, and I hope they will."
The Democrats Trump dined with on Tuesday -- Joe Manchin of West Virginia, Joe Donnelly of Indiana, and Heidi Heitkamp of North Dakota -- are the only members of their party in the Senate who declined to sign on to a list of preconditions for supporting a tax overhaul drawn up by Schumer. The list includes that an overhaul not add to the deficit, not increase the tax burden on the middle class, and that it be considered under regular congressional procedures, rather than fast-tracked using rules that can avoid a Senate filibuster.
Watch Next: Trump, Democrats Talk Taxes at White House Dinner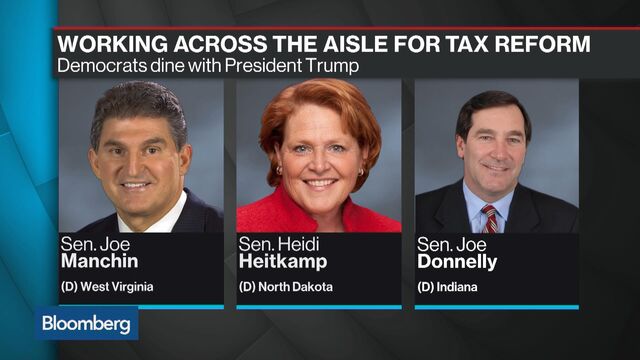 (
Updates with comments from Mulvaney beginning in fourth paragraph.
)
Before it's here, it's on the Bloomberg Terminal.
LEARN MORE