The Year Ahead/Technology
China's New, Severe Curbs on the Internet Leave Little Left to Censor
Google and Facebook now face an even tougher time nosing their way into the world's biggest market.
Bloomberg News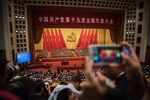 In late October, as he pushed to cement his grip on China's ruling Communist Party for another five years, President Xi Jinping made it clear that with him in charge, the country's internet wouldn't be getting more liberal.
At the twice-a-decade National Congress of the Communist Party, during a three-and-a-half-hour speech extolling the virtues of China's version of socialism, Xi said officials need to engage with the public and pledged to do it on specific terms. "We will provide more and better online content and put in place a system for integrated internet management to ensure a clean cyberspace," he told more than 2,000 party delegates as he kicked off the weeklong assembly. "We will distinguish between matters of political principle, issues of understanding and thinking, and academic viewpoints, but we must oppose and resist various erroneous views with a clear stand."
Those goals may sound appealing in the era of fake news, but Xi's first five years have been marked by the biggest crackdown on freedom of expression in the internet age. Foreign companies complain of restrictions that hamstring operations and favor homegrown players. Police are shutting businesses and arresting civilians on message groups as Beijing plugs more holes in its "Great Firewall," a blockade of blacklisted sites.
Google and Facebook Inc. are trying to figure out how to nose their way back into the world's biggest market—about a decade after exiting China because of privacy concerns (Google) and being blocked from it (Facebook). They have to weigh the benefits of a billion potential users against the implicit support for a repressive regime that works in opposition to their stated priorities. "China has become far bolder and more strategic in its approach to a very old and familiar objective, which is to shore up political control through controls on information," says David Bandurski, co-director of the China Media Project and a Richard von Weizsäcker​ fellow of the Robert Bosch Academy in Berlin. "The party feels it must centralize and double down on control."
China has corralled Tencent Holdings, Alibaba Group Holding, Baidu, and other leading internet companies to join the effort. Officials say guarding the electronic frontier is necessary to preserve the stability of a vast country undergoing rapid economic and social changes. In June, Weibo Corp., the Chinese equivalent of Twitter Inc., was one of three companies fined and banned by regulators from broadcasting certain types of content without a license. "They want to shut people up and to tighten self-censorship," says Qiao Mu, a former journalism professor at Beijing Foreign Studies University. "They want to avoid mass incidents and prevent crises before they emerge."
Away from the glare of rules and legislation, censorship in China has become increasingly granular, down to what can be shown on streaming sites. Previous regimes periodically blocked virtual private networks, the technology long used to circumvent web filters, but Xi's government is shutting them down for good.
China's online watchdog has also slapped fines on news services run by Tencent, Baidu, and Weibo. Internet regulators say they closed 3,918 websites in the second quarter for spreading information that was violent, pornographic, or a danger to national security. Even Winnie the Pooh was kicked off temporarily after images of the bear started popping up as an online proxy for the stout Xi.
"At this rate, there will not be much left for the next leader to censor," says the co-founder of GreatFire.org, a group that finds ways around government restrictions, who goes by the name Charlie Smith to avoid reprisals. "He is the first Chinese leader to truly understand the power of the internet, and hence we are seeing an unprecedented crackdown on dissenting information."
Tencent's WeChat, with almost 1 billion users, has become adept at preventing sensitive messages from ever reaching their destination, such as when it blocked a flood of photos of the late dissident and Nobel laureate Liu Xiaobo this summer. Baidu is building a system to allow cybercops to spot and fix "online rumors," letting police agencies insert themselves directly into everything, including its search results and discussion forums.
Services that rely on free-flowing information, such as Google and Facebook, would struggle to exist in such a regime, though they remain intent on finding a way in. Facebook-owned WhatsApp, which operated unfettered for years, began experiencing intermittent disruptions in July that industry experts blame on the government's increased use of surveillance technology in the runup to the party congress.
Other companies have made concessions to Xi. LinkedIn censors its local subscribers' posts. Microsoft Corp. set up software centers where government officials can peruse source code under careful scrutiny. Apple Inc. started deleting apps that bypass China's internet restrictions from its local App Store. Fight it or not, China is simply too big to ignore.
Before it's here, it's on the Bloomberg Terminal.
LEARN MORE