The Year Ahead/Economics
These Elections Could Reshape Latin America
Voters are ready for change in Mexico and Brazil.
By and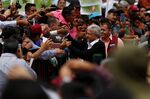 Latin America's two largest economies will hold presidential elections in 2018. That's a nerve-racking prospect for investors who've become used to decades of policy continuity and could see Mexico and Brazil take radical turns. After 36 years of free-market technocrats, Mexicans could anoint a leftist firebrand who's threatened to take on Donald Trump. In Brazil, where the populist Workers' Party held sway for 13 years until 2016, a scandal-fatigued electorate is flirting with a former army captain nostalgic for military rule. "You will have a lot of investor angst" during the elections, says Daniel Kerner, an analyst at risk consulting firm Eurasia Group Ltd. "You will have in both cases capital flight, pressures on the currency from investors getting scared—in Mexico's case that there will be a reversal of reforms, and in Brazil's case, low commitment to reforms."
What's driving voters' yearning for change? For starters, neither President Enrique Peña Nieto in Mexico nor his counterpart in Brazil, Michel Temer, will stand for reelection, and their approval ratings are so dismal that their endorsements would hardly help a hand-picked successor. Their administrations have been dogged by endless corruption allegations, and neither has been able to spur the economy to grow fast enough to satisfy the middle class.
In Mexico, Trump himself may effectively hand the presidency to Andrés Manuel López Obrador, who's sought the job twice before. The U.S. president has antagonized Mexico by demanding the nation pay for a border wall and by threatening to rip up the North American Free Trade Agreement. That's added to the appeal of López Obrador, a former Mexico City mayor who claims he was robbed of the presidency in 2006 in a rigged election. Supporters of Amlo, as he's popularly known, see his brash style as the best way to meet Trump's hostility head-on. If the U.S. walks away from Nafta or if haggling over the deal inches closer to the July 2018 vote, that would lift López Obrador further. "Mexico could have a rather intense shift in political orientation," says Mario Mesquita, chief economist at Itaú Unibanco Holding SA. "Economists are rightly concerned with a possible end of Nafta, with Mexican elections, and how that could bring about a López Obrador victory."
Amlo has promised to boost the minimum wage and increase social spending to help the 50 percent of the population that lives in poverty. Investors are most concerned about the candidate's pledge to review and possibly reverse hard-fought reforms that opened the petroleum and electricity industries to private competition. Chevron, Exxon Mobil, Total, and China National Offshore Oil Corp. are among the almost 70 companies that have signed oil contracts expected to bring in as much as $80 billion over the life of the agreements, according to the energy ministry. Companies can at least take comfort from the prospect that Amlo's Morena party is unlikely to capture a majority in Congress.
One recent poll shows Amlo with as much as an eight-point lead on a large field of candidates. Mexico is allowing independents to run on the national ticket for the first time, and more than 70 have signed up. Among them is Margarita Zavala, a lawyer and the wife of former President Felipe Calderón. She broke away from the right-of-center PAN to run on her own ticket. The ruling PRI has yet to unite behind a candidate. At the moment, the top contenders for the party's nomination are Finance Secretary José Meade and Secretary of the Interior Miguel Osorio.
In Brazil, three years of investigations into government graft have voters pining for what may be an extinct species: clean politicians. In a survey released this month, 87 percent of respondents said it was "very important" candidates not be tainted by corruption. That sentiment may be an obstacle to former President Luiz Inácio Lula da Silva's hopes of clinching a third term in next October's elections. He's appealing a conviction on charges of graft and money laundering.
The desire for an honest candidate has boosted the appeal of Jair Bolsonaro, a seven-term congressman from Rio de Janeiro who calls himself "a threat to the stubbornly corrupt." The onetime military officer also is tough on crime: He's said he'll allow all Brazilians to get guns if elected, a controversial stance in a nation where seven people are murdered every hour.
Improving the security situation, Bolsonaro said, will help attract much needed investment to consolidate an incipient recovery following eight quarters of contraction. However, he's the first to admit he has only a superficial understanding of economics. His policy proposals, to the extent he's elucidated them, are mostly inclined toward resource nationalism, particularly concerns over China snapping up mining assets. He does support privatization of nonstrategic assets, which he says would include Petróleo Brasileiro SA, the state-run oil giant that had been a source of national pride until prosecutors showed it to be the center of a vast network of patronage and graft.
Bolsonaro's penchant for inflammatory statements, which have caused critics to brand him as homophobic, misogynistic, and racist, doesn't seem to deter his supporters, who see him as a Brazilian Trump (minus the fortune). His social media following is bigger than that of any other contender—of whom there are many. The field includes former Acre state Senator Marina Silva; São Paulo businessman-cum-mayor João Doria Jr.; and São Paulo state Governor Geraldo Alckmin. Finance Minister Henrique Meirelles is a favorite among investors, but so far he's denied reports that he'll run.
Before it's here, it's on the Bloomberg Terminal.
LEARN MORE