The Year Ahead/Energy
Can the U.S. Crack the $90 Billion LNG Market?
Long-term contracts for liquefied natural gas are expiring, but a glut is keeping prices down.
By and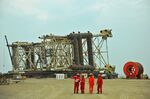 The $90 billion global market for liquefied natural gas will be reshaped in 2018 as a number of large, long-term contracts start to expire. Growing supplies from the U.S., higher demand in Europe and Asia, and geopolitical tension surrounding Russia and Qatar, the world's two biggest gas suppliers, promise to shift long-established trading patterns.
For decades the majority of LNG bought and sold around the world has been governed by long-term contracts of up to 20 years. A fifth of those will expire from 2018 to 2020. Over the next decade, contracts governing 80 percent of all global LNG trade will be rewritten. For now, the LNG market is in the midst of an enormous supply glut, in part because of the advent of U.S. exports in the past two years. That glut is likely to persist until at least 2020, keeping prices low.

Most contracts expiring next year involve buyers in Europe, where countries are trying to reduce their reliance on Russian natural gas, which is shipped via pipeline without being liquefied. Negotiations are already under way as utilities in France, Spain, and the U.K. look for new suppliers. Lithuania and Poland recently built LNG import terminals so that they aren't locked into buying Russian gas. Croatia got backing from the European Union to do the same. And Russia is facing competition in conventional natural gas: Starting in 2020, Azerbaijan, a former Soviet republic, will begin piping gas from its giant Shah Deniz field into southern Europe, including Bulgaria and Greece.
Europe has no choice but to increase gas imports. Production from some of its biggest gas fields in the North Sea and the Netherlands is falling, yet demand is forecast to remain strong as countries transition from coal- to gas-fired power generation. Russia is moving to defend market share. Over the past few years the state-owned gas giant Gazprom has cut prices for gas sent to Europe. It's also pushing ahead with two pipeline projects, one across the Black Sea and another across the Baltic Sea.
Europe's need for more LNG could offer an opening for U.S. exporters. Yet in the current low-price environment, they can't win new business just by undercutting competitors. "U.S. LNG continues to be promoted as an attractive diversification away from Russian gas but currently lacks the economic justification to secure a sizable market," says Claudio Steuer, director of SyEnergy Ltd., a U.K.-based energy consultant. And the world's top LNG exporter, the tiny Gulf nation of Qatar, is looking to expand market share in Europe. It recently announced plans to boost LNG production by 30 percent over the next several years. Nigeria and other LNG exporters also face a battle over expiring LNG contracts, and Algeria says it's preparing a strategy on how to export its gas amid oversupply.
Price aside, there are benefits to signing deals with U.S. suppliers, says Meg Gentle, chief executive officer of Houston-based LNG producer Tellurian Inc. "I think that stability and security of supply are important factors," she says. "Price is not the only factor." One of the key advantages for the U.S. is its vast shale reserves, along with a pipeline network that will allow exporters to bring gas from all over the country to export facilities being developed along the Gulf Coast, ensuring a steady supply. And while most LNG contracts come with strict destination clauses, mandating the physical delivery point for cargoes, U.S. exporters are offering their customers the ability to ship anywhere in the world. That could make a big difference to Asian buyers, particularly Japanese utilities including Tokyo Gas, Osaka Gas, and Chubu Electric Power, which have trading operations and want to be able to shift where they send the gas depending on market conditions.
U.S. LNG companies hope to sign big deals in 2018. That would please the Trump administration. Selling more LNG to Asia could shave billions of dollars off the U.S. trade deficit with Japan, South Korea, and China. "LNG contract roll-off is a huge opportunity," says Kathleen Eisbrenner, CEO of NextDecade Corp., which is seeking to build an export terminal in Texas and install an offshore import facility in Ireland. Next year "is going to be a pivotal year."
Before it's here, it's on the Bloomberg Terminal.
LEARN MORE