The Year Ahead/Energy
The New Latin American Oil Map
Political turmoil, new oil patches, and a need for capital.
By , , and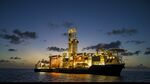 In January, Mexico will hold its biggest auction of drilling rights to date, leasing access to offshore areas as well as opportunities to work with state-owned Pemex in the 500 million-barrel equivalent Nobilis-Maximino field. As many as three additional auctions also are expected next year. But presidential candidate Andrés Manuel López Obrador has vowed that if he wins, he'll review contracts awarded to producers including Chevron, Exxon Mobil, and Royal Dutch Shell.
Venezuela's once-mighty oil industry is in free fall after the regimes of Hugo Chávez and successor Nicolás Maduro drained the state-owned oil production company of cash. Output has fallen in 9 of the past 10 years, cratering last year to the lowest level since 1990.
In 2015, Exxon made a giant oil find off the coast of Guyana. The new fields could contain almost 3 billion barrels of crude.
Brazil has some of the world's top oil engineering talent, but it needs capital. The government plans several auctions of drilling rights by 2019. The wild card: Ongoing corruption scandals make it an unreliable partner.

Before it's here, it's on the Bloomberg Terminal.
LEARN MORE