The Year Ahead/Technology
This Biotech Scientist Says Washington Needs to Remember the Basics
Regeneron's George Yancopoulos is worried about the lack of investment in the NIH.
By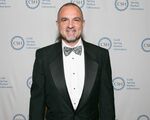 Caroline Chen: The biotech industry has seen a boom of new technologies and drugs in the past few years. What technologies are you most excited about?
George Yancopoulos: It's all about genetics and DNA. Regeneron has now sequenced a quarter of a million people and has their health records. This is a resource that's never been possible or available before. It used to take 10 to 15 years to do the genetics testing, and then you'd start the drug development, which takes another 10 to 15 years. Now we've cut out those first 15.
Are there ethical issues or other drawbacks to increasing the accessibility of these technologies? One guy recently injected his arm muscles with the gene-editing tool Crispr to see if he could make himself more buff.
Well, I don't think it'll work for that guy. At most, he'll get injection-site inflammation and some soreness. Biology is one of the most complicated things we've tried to tackle as humanity. The danger of unintended consequences is so high. We have to go by the rulebook of Hippocrates: Do no harm. We've had older gene-editing technology for decades and could have edited human embryos, but we haven't for that reason. It's so easy to screw things up. We've screwed up our health, our environment. Social media has maybe destroyed the minds of the next generation. We've shown how interventions can so easily go awry. But it's so hard to fix things. Crispr is still at the earliest stages, and it's going to be years before we see large-scale interventions.
The industry has been arguing that it's not recognized for this hard work. Everyone from President Trump on down accuses drugmakers of price gouging. Where's the price conversation going to go next year?
As an industry, we all have to be more responsible. We know the egregious examples of [Martin] Shkreli and Valeant [Pharmaceuticals International Inc.]. Even more respectable companies sometimes, when they want better earnings per share, do double-digit increases of a drug price for a product they've had on the market for years. But I don't want the pricing conversation to dominate to the point that it distracts from the more fundamental issues here. Society really needs to invest in future epidemics. If we don't deal with them, then the cost of drug prices today will be rounding errors compared to the price of obesity and diabetes and Alzheimer's. It's astounding that out of the trillions of dollars we spend on health care, we're only giving $30 billion to the National Institutes of Health to try and somehow fix these future problems. That's irrational. People mock the work on worms and fruit flies that the NIH does, but that's where discovery comes from. We should be increasing the NIH funding tenfold.
What advice do you have for the current administration?
I don't think any administration, including the current one, understands where discoveries really come from. It can take 10, 20, 30, even 40 years. That's where their horizons should be, not the next election or earnings cycle. I think there are ways we could be changing corporate tax structures and introducing incentives to encourage those long-term horizons. We say at Regeneron, in biology you get what you select for. That's the case in politics, too. Climate change can't be fixed in the next quarter. We have to fundamentally change our thinking.
Before it's here, it's on the Bloomberg Terminal.
LEARN MORE