The Year Ahead/Economics
TPG's Jim Coulter Sees a New Era of Private Markets
He cites Blue Bottle's founder, who said going public can be like living in hell without dying.
By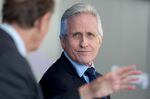 Devin Banerjee: What is your portfolio telling you about the state of economies around the world?
Jim Coulter: With 200-plus companies, we have front-row seats for the world of business. And right now the show seems to be progressing pretty well. If anything, my concerns are that the market seems not to have concerns in a world that is geopolitically and socially at an interesting point. I'm also still scratching my head on the state of inflation, where on one hand we have asset inflation in many parts of the economy while the general inflation measures reflect average levels of consumer price inflation. Those seem at odds.
How did the major elections across Europe this year affect your outlook for the continent?
Europe has, in our view, outperformed over the past few years. And the recent elections, which have swung a bit more toward stability after the swing away from stability at Brexit, have been encouraging. Catalonia at the moment is an interesting question, but elsewhere on the continent, the outlook seems positive.
TPG was an early mover into Asia. What are the opportunities and challenges there now?
In China, a number of years ago people thought the story was going to be about transitioning the state-owned enterprises. Instead, much of the activity has been around building new companies, new industries. Because of the focus on the Communist Party congress this year, we think the economy may well see a pickup going forward—although the numbers have not been bad—as politics move more into the rearview mirror. Across the rest of Asia, it's been a pretty good year in our portfolio and a pretty good year for the economies. We don't see that changing in the near term.
TPG recently broadened its ambitions to include Africa. Why?
We're early in that process yet, but we're highly interested in the demographic trends and certain sectors that are emerging, most notably health care, financial services, and agriculture.
What's a tech trend that you're watching closely from your perch in San Francisco?
One trend that interests me is the change in spending habits from things to experiences, which has accelerated over the past few years. That's really driven by three points: Experiences are easier to buy when you can digitally pre-shop for them; experiences are more valuable to people if they can be shared—so the ability to instantly share that moment in a concert has somehow made concerts more valuable; and while we used to spend money to brand ourselves with the things we wore or used, today people are branding themselves with the experiences they have that they can immediately broadcast to their friends. It's a technologically enabled change in behaviors, which creates investment opportunities.
More businesses are choosing to remain privately funded. Is this development temporary or permanent?
We might be entering a new era of the private markets. While the stock market is up in value, the number of publicly listed companies in the U.S. is down more than 40 percent over the last 20 years. In particular, the new technology companies we watch closely at TPG are increasingly choosing to stay in the private markets longer. I was struck that when James Freeman, [the founder] of Blue Bottle Coffee, was asked recently why he sold to Nestlé as opposed to going public, he said that, from his point of view, going public was like living in hell without dying. That's very different than the traditional view that going public is a celebrated rite of passage.
Before it's here, it's on the Bloomberg Terminal.
LEARN MORE