The Year Ahead/Energy
Get Ready for an Appalachian Gas Bonanza
New projects will pump up the region's energy economy.
By and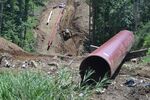 David Rheinlander used to dream of building a cabin in the woods behind his house in southwestern Pennsylvania. Now when the 57-year-old looks across his backyard, he sees a line of cut trees, piles of dirt, and stacks of steel pipe where he once envisioned a tiny cabin. For the past six months, construction crews carved their way through the back of his property. The roughly 100-foot-wide path they're cutting through the rolling hills extends about 700 miles to the west, running through neighboring Ohio and all the way up into Michigan.
The pathway is for a pipeline that will bring huge amounts of natural gas out of sparsely populated Appalachia and into big cities across the Midwest. The pipeline, called Rover, is being built by Energy Transfer Partners LP, of Dallas, which has spent three years and a total $4.2 billion on the painstaking process of winning permits, clearing miles of rugged terrain, and fighting a pitched legal battle against environmental groups and landowners.
Rover is scheduled to begin shipping as much as 3.25 billion cubic feet of natural gas a day in early 2018. When fed through a natural gas-fired power plant, that's enough to power about 30 million homes. Rover is one of a handful of pipelines set to open next year that will begin moving natural gas from the massive Marcellus and Utica shale formations that lie beneath parts of Ohio, West Virginia, Pennsylvania, and New York.
Rheinlander isn't exactly thrilled to have Rover in his backyard, but he supports efforts to build up the region's economy. "I've got no issue with them developing gas," he says, eyeing the pipeline pieces scattered atop the dirt. "My overall feeling is that we've got to develop as much energy in this country as we can."
A relative latecomer to America's shale revolution, the Marcellus and Utica regions arebooming. In the past 10 years, natural gas production there, driven by advances in horizontal drilling, has multiplied by a factor of 10, to about 25 billion cubic feet a day, or roughly a third of U.S. output. Despite the increase in production, the energy companies that drill the wells to produce the gas complain they've been bogged down by a thicket of political and regulatory hurdles, as well as opposition from environmentalists and some landowners. These obstacles have prevented the region's energy industry from reaching its full potential, they argue.
Sometimes dubbed the Saudi Arabia of natural gas, the Marcellus is thought to hold a century's worth of reserves. But after an initial boost of investment and optimism by drilling companies, activity started to stall, mostly because there weren't enough pipelines to deliver the gas to large markets. Companies kept drilling wells but left many of them uncompleted, waiting for the day when pipelines would be finished. Now, with a slate of projects opening in 2018, the number of drilled but uncompleted wells in the Marcellus has fallen 28 percent since February 2014. With Donald Trump in the White House pushing to cut regulatory red tape to unleash America's energy supply, a lot of companies have a sense of expectation. "The only thing holding back the Marcellus Shale is lack of energy infrastructure," says Rob Thummel, managing partner at Tortoise Capital Advisors. "Natural gas production volumes have exceeded available pipeline capacity for several years."
Fifty miles west of Rheinlander's home, in eastern Ohio, Enbridge Inc.'s Nexus transmission line will soon begin its own 250-mile path up and around Lake Erie into Michigan. That project, scheduled to open around the middle of 2018, will be able to ship 1.5 billion cu. ft. of gas a day. And in northeast Pennsylvania, Williams Cos.' Atlantic Sunrise project will soon be connecting that region's gas producers to the Transco pipeline, a gas superhighway that runs from the Gulf of Mexico up the East Coast to New York City. Tracing a similar path, the $1 billion Penn East pipeline project is nearing final regulatory clearance to begin construction.
Taken together, these projects should allow Marcellus and Utica gas producers to ship an additional 7.5 billion cu. ft. of gas a day, increasing the region's pipeline capacity by about a third, says Darren Horowitz, an analyst for Raymond James. "It is sorely needed as a long-term solution to free up highly economic Marcellus and Utica acreage," Horowitz wrote in a late-September note. "Can producers fill these pipes? Is the pope Catholic?"
Before it's here, it's on the Bloomberg Terminal.
LEARN MORE