The Year Ahead/Technology
Silicon Valley Is About to Spend a Lot of Time in Court
The big U.S. tech companies will continue to face legal challenges in Europe as things get tougher at home.
By and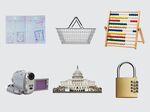 A year ago the big U.S. tech companies were facing threats from regulators in Europe and to some extent in China, but they were still golden at home. President Obama's chief digital officer was a Google veteran, and the month before Election Day, the White House staged a tech-infused South by South Lawn festival that Obama called the "first annual." Lobbyists for Google, Apple, Facebook, and Amazon.com got respectful congressional audiences for their priorities: more visas for high-tech workers, a crackdown on patent trolls, and extended tax credits for R&D.
Heading into 2018, the same companies find themselves almost as pressured in the U.S. as they are in other parts of the world. Their stock prices are still sky-high; their reputations less so. Various tech companies stand accused of capturing or suffocating potential competitors, shirking taxes, invading privacy, and providing a venue for sex traffickers. (They deny the accusations.)
While all big, successful companies have their share of critics, few are battling on as many fronts as Google, Apple, Facebook, or Amazon. Many of the challenges, from court cases to legislation, will come to a head in 2018. "There's just so many things that have happened recently," says Albert Wenger, a partner at New York venture capital firm Union Square Ventures, an early investor in Twitter and Etsy Inc. "People are starting to ask, 'Wait, what's going on here?' "
 
Antitrust
 
Challenge: European regulators fined Google €2.4 billion ($2.8 billion) in June for favoring its own shopping service in search engine results. They're considering two more cases against Google, one involving its Android software and another focusing on its AdSense advertising service.
 
Prospect: Google plans to make its shopping service a standalone business unit that won't get special treatment in its search results.
 
"Google abused its market dominance," says Margrethe Vestager, the European Union's commissioner for competition.
 
Challenge: Germany's competition authority is investigating whether Facebook abused its power as the dominant social network by forcing customers to agree to unfair terms on how their data are used.
 
Prospect: The regulator has begun issuing white papers on social networking to strengthen its credibility as a leading voice on consumer protection.
 
The case "falls into a gray zone between competition and privacy," Vestager told Bloomberg TV in September.
 
Blocking
 
Challenge: China is shutting down virtual private networks (VPNs) that people have used to circumvent censorship and reach Facebook, Google's YouTube, and other sites.
 
Prospect: President Xi Jinping may further tighten government control of China's internet in 2018.
 
Hate speech
 
Challenge: A German law that took effect in October requires social platforms to remove hate speech within 24 hours or within seven days in complex cases. Tech companies have said this would be so onerous that it would force them to enact broad censorship.
 
Prospect: This could be just the start. The European Commission is also pushing companies to be more proactive in taking down offensive content.
 
Immigration
 
Challenge: The Trump administration doesn't share Silicon Valley's enthusiasm for more open borders.
 
Prospect: Congress may cut back on H-1B visas, which disproportionately go to tech workers, in 2018.
 
"Congress, get ready to do your job - DACA!" President Trump tweeted on Sept. 5.
 
Net neutrality
 
Challenge: The Federal Communications Commission is expected to kill Obama-era net neutrality rules, which prevent internet providers from charging different rates to different customers (from Netflix down to individual homes) or giving certain data sources preferential treatment. That will likely raise costs for tech giants.
 
Prospect: The FCC is on track to undo the net neutrality rules by early 2018.
 
FCC Chairman Ajit Pai says the net neutrality framework was "originally designed in the 1930s for the Ma Bell telephone monopoly."
 
Political advertising
 
Challenge: The Honest Ads Act, introduced in the U.S. Senate in October with bipartisan sponsorship, would require internet companies to reveal who's buying political ads and archive them for review.
 
Prospect: Congress has been slow to take action on the bill, which, if passed, would take effect on Jan. 1.
 
"Election security is national security," says co-sponsor Senator Amy Klobuchar (D-Minn.).
 
Privacy
 
Challenge: A European rule called the General Data Protection Regulation calls for fines of as much as 4 percent of worldwide annual revenue on companies if they don't adequately protect customer data.
 
Prospect: The regulation takes effect on May 25.
 
Russian influence
 
Challenge: Two congressional committees and special counsel Robert Mueller are investigating whether Russian agents influenced the 2016 presidential election through inflammatory ads placed on Facebook, Google, and Twitter. British Prime Minister Theresa May has floated the idea of treating the three companies like news organizations, making them responsible for content appearing on their platforms.
 
Prospect: This could lead to regulation of American online advertising by countries that are considered adversaries of the U.S.
 
Facebook says Russian posts landed in the news feeds of 126 million people. Twitter just banned ads from Russia-backed news services RT and Sputnik.
 
Sex trafficking and pornography
 
Challenge: The U.S. Senate's Stop Enabling Sex Traffickers Act (Sesta) would expose internet companies such as Facebook and Google to civil lawsuits over content created by customers. There's a similar bill in the House. Opponents such as the Electronic Frontier Foundation say it would undercut free speech and innovation.
 
Prospect: Introduced by Senator Rob Portman, an Ohio Republican, the bill has 30 co- sponsors from both parties. It has a good chance of passage in 2018.
 
Tech companies find themselves on the same side of the debate as sex traffickers.
 
Taxation
 
Challenge: The EC wants to close loopholes that U.S. tech giants use to reduce their tax bills. As an interim solution, it's considering an "equalization" tax on digital companies' revenues instead of on their profits.
 
Prospect: In September the commission suggested "a possible proposal by spring 2018."
 
The European Union says the average international company with a digital consumer business pays an EU tax rate of 10.1 percent, vs. 23.2 percent if the company has a traditional business model.
 
Challenge: In 2016 the EC ordered Ireland to collect up to €13 billion in back taxes from Apple. The Irish government, which uses low tax rates to attract business, has appealed.
 
Prospect: The EU's General Court is expected to hear the case in late 2018.
 
Apple CEO Tim Cook called the order "total political crap."
 
Challenge: By December 2017, many merchants who sell on Amazon are expected to begin collecting state sales taxes in exchange for amnesty from back taxes in about half of U.S. states.
 
Prospect: Higher prices could reduce sales through Amazon's marketplace.
Before it's here, it's on the Bloomberg Terminal.
LEARN MORE