The Year Ahead/Politics
Six Seats the Democrats Are Fighting For to Help Flip the House
The president's sagging ratings give the party hope for overturning the GOP majority for the first time since 2006.
By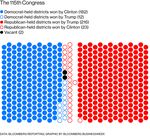 The Democratic Party will need a net gain of 24 seats to win control of the House. It won't be easy: Republicans have battle-tested incumbents plus advantages in redistricting and outside money. But the White House almost always loses ground in midterm elections, and Trump's sagging approval rating is raising Democrats' hopes of overturning the GOP majority for the first time since 2006, when they flipped 30 seats midway through George W. Bush's second term. Democrats are mounting vigorous early campaigns in dozens of races, including these six districts. —Giroux writes for Bloomberg Government

Washington's 8th
The ­retirement of GOP Represent­ative Dave Reichert after seven terms gives Democrats a chance to pick up a district that includes Seattle suburbanites who work at Microsoft Corp. and Boeing Co. Hillary Clinton won here by 3 percentage points. The district also voted in 2016 to reelect Democratic Senator Patty Murray by 4 points.

Contenders: The leading Republican candidate is Dino Rossi, a former state senator who lost statewide races for governor in 2004 and 2008 and against Murray for the Senate in 2010. Through the end of September, he was the top fundraiser, with more than $578,000. A big field of lesser-known Democrats includes Kim Schrier, a pediatrician who's getting donations from dozens of doctors; Jason Rittereiser, a former prosecutor; Tola Marts, a city councilman in Issaquah, near Seattle; and Mona Das, a mortgage broker who came to the U.S. from India as a child.

Colorado's 6th
In the Denver suburbs, Democrats are again trying to unseat the GOP's Mike Coffman, who's won five elections. In 2016 he got 34,500 more votes than Trump. An Army and Marine Corps veteran, Coffman serves on the Armed Services Committee and was one of 20 Republicans to vote against the GOP replacement for Obamacare. The district is about 20 percent Hispanic, and Coffman spoke Spanish in a commercial for his 2016 campaign. He supports protections for so-called Dreamers.

Contenders: The preferred candidate of Democratic leaders is Jason Crow, a former Army Ranger who served in Iraq and Afghanistan and spoke at the 2012 Democratic National Convention. In the primary, Crow will take on Levi Tillemann, a former Obama administration Department of Energy official, and David Aarestad, a lawyer.

Iowa's 1st
This 20-county district in Iowa's northeastern quadrant is overwhelmingly white and middle-class, with a median household income identical to the nation's. Trump won here by 3 points four years after voters backed President Obama's ­reelection by 14 points.

Contenders: Trump's Iowa surge helped GOP Representative Rod Blum win reelection over a well-funded Democratic challenger. Blum's bid for a third term will be a test of whether this district will revert to its earlier Democratic voting patterns. One of Blum's Democratic challengers is Abby Finkenauer, a state representative whose donors include Senator Al Franken (D-Minn.) and labor unions. At 28, Finkenauer is younger than any current member of Congress. She'll have to beat Thomas Heckroth, a former Obama Labor Department aide.

New York's 19th
This Hudson Valley district flipped to the Republicans in 2016, when it backed Trump four years after supporting Obama. Last year, Republican John Faso, a former state legislator, beat Democrat Zephyr Teachout, a law professor and anti-corruption activist. Faso bucks his party from time to time, voting against some bills to ease environmental and labor regulations.

Contenders: At least eight Democrats are challenging Faso, including two who raised more than $1 million through the end of September. Antonio Delgado, a lawyer and Rhodes scholar, has financial backing from the Congressional Black Caucus and many of his fellow lawyers at Akin Gump. Businessman Brian Flynn's million-dollar campaign war chest includes more than $695,000 of his own money. Patrick Ryan, an Iraq War veteran, raised $590,000 from donors including VoteVets.org, a liberal group that promotes military veterans.

Virginia's 10th
In the last two elections, Republican Barbara Comstock turned back Democrats in this educated, wealthy district that runs from the Fairfax County suburbs of D.C. to the West Virginia border. Although Trump lost the district by 10 points, Comstock bucked the anti-Trump sentiment to win a second term by 6 points, in part by advocating for federal government workers and transportation improvements for constituents who have some of the nation's longest commutes.

Contenders: Look for Comstock to run in 2018 as an independent-minded Republican. She was among the 20 Republicans who voted against a proposed replacement for the Obama-era Affordable Care Act. There's a big Democratic field that includes state Senator Jennifer Wexton, who's attacked Comstock's anti-abortion votes. Ex-State Department official Alison Friedman, Army vet Dan Helmer, and ex-Veterans Affairs official Lindsey Davis Stover also seek the Democratic nod.

Florida's 27th
This Hispanic-majority ­district is the most Democratic-leaning in the House held by a Republican—­Trump lost by about 20 points here. The GOP will be hard-pressed to keep the seat after the retirement of Representative Ileana Ros-Lehtinen, the first Hispanic woman elected to Congress. There's already a large field of candidates for the August primary.

Contenders:  Democrats include Kristen Rosen Gonzalez, a Miami Beach commissioner, and Mary Barzee Flores, nominated for a federal judgeship by Obama in 2015 but blocked by Senator Marco Rubio. State Representative David Richardson, the first openly gay man to serve in the Florida legislature, put $250,000 of his own money into the campaign. He and Matt Haggman, the former program director at the Knight Foundation, were the early leaders in fundraising. Republicans include Bruno Barreiro, a commissioner in Miami-Dade County, and Raquel Regalado, a former Miami-Dade school board member and mayoral candidate.
Before it's here, it's on the Bloomberg Terminal.
LEARN MORE