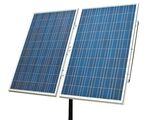 The Trump administration is plotting a series of moves in 2018 that could end up harming the wind and solar industries. That includes asking regulators to rewrite power market rules, revamping the tax code, and imposing tariffs on foreign-made solar panels. One of the most closely watched moves will likely involve Suniva Inc., a bankrupt solar panel manufacturer based in Georgia that filed a trade complaint in April. The company, which says it was hurt by cheap Asian imports, has asked Trump for tariffs on foreign panels. The administration has until mid-January to decide.
Import duties protecting domestic solar panel manufacturers would appear to be good for clean energy. But cheap foreign panels are the lifeblood of the U.S. solar industry, helping drive a sixfold rise in photovoltaic generation since 2012. Most of the solar industry opposes Suniva's push, saying growth will slow if panel prices rise. The threat of tariffs has prompted developers to hoard panels and put projects on ice.
In September, U.S. Energy Secretary Rick Perry asked federal regulators to help coal and nuclear plants compete in wholesale power markets. The request ostensibly is designed to promote national security by rewarding plants capable of storing long-term supplies of fuel on-site. The proposal may help keep plants open even if they're not economical to run. That could devastate clean energy, since electricity demand has stagnated in much of the U.S. If aging power plants don't close, there will be little room for more wind and solar farms.
The biggest threat to wind and solar may come from Trump's proposed tax cuts. Slashing corporate rates may reduce the availability of a key, albeit esoteric, source of clean-energy financing called tax equity. And broad reform would probably make debt pricier for new power plants and reduce developers' savings from depreciation.
The worst-case scenario would be if Congress ends clean-energy tax credits early, which Environmental Protection Agency chief Scott Pruitt called for in October. The credits have strong bipartisan support. Analysts say the odds of their being eliminated are slim, but Republicans will be hard-pressed to find a way to pay for Trump's proposed tax cuts. "They're going to look under every rock for revenue," says Gregory Jenner, an attorney who specializes in tax law at Stoel Rives LLP. "Even the possibility of that will have a chilling effect."

Before it's here, it's on the Bloomberg Terminal.
LEARN MORE