politics
Chuck Schumer Calls on Al Franken to Resign
By and
Chuck Schumer Calls on Al Franken to Resign
By and
Minnesota Democrat plans to make a statement Thursday

Third-ranking Democrat Murray 'appalled' by his behavior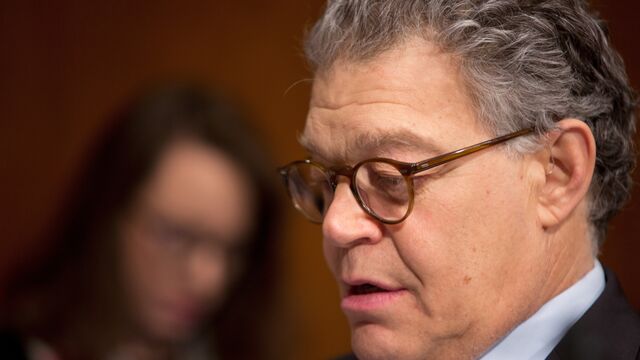 Senate Minority Leader Chuck Schumer joined more than half of the chamber's Democrats in calling on Senator Al Franken to resign Wednesday as yet another sexual-harassment claim created what one female senator called a "tipping point."
Franken plans to make an announcement Thursday in Washington. Minnesota Public Radio quoted an unidentified Democratic official as saying he will resign, but a posting on Franken's Twitter account said no final decision has been made.
"I consider Senator Franken a dear friend and greatly respect his accomplishments, but he has a higher obligation to his constituents and the Senate, and he should step down immediately," Schumer of New York said in an emailed statement.
Statements by several female Senate Democrats Wednesday morning quickly built to a wave as male party members also broke with Franken, 66, of Minnesota. He has been a leader of the Democrats' liberal wing and was seen as a potential 2020 presidential candidate.
"I'm shocked and appalled by Senator Franken's behavior," Senator Patty Murray of Washington, the third-ranking Senate Democrat, said in a statement. "It's clear to me that this has been a deeply harmful, persistent problem and a clear pattern over a long period of time. It's time for him to step aside."
Senator Ron Wyden of Oregon said on Twitter he expects Franken to announce his resignation Thursday and that it's "the right thing to do."
Senate Majority Leader Mitch McConnell, a Kentucky Republican, also weighed in. The GOP leader said in a statement that Franken appears to have "lost the support of his colleagues, and most importantly, his constituents. I do not believe he can effectively serve the people of Minnesota in the U.S. Senate any longer."
Ethics Committee
Franken has sought to ride out the allegations with apologies and an investigation by the Senate Ethics Committee. Democratic leaders have wrestled with how to calibrate their response to harassment allegations against their members, but in recent weeks there's been a rising sentiment for zero tolerance. On Tuesday, Democratic Representative John Conyers of Michigan, the longest serving House member and a civil rights leader, resigned amid claims he sexually harassed members of his staff.
Democrats have one eye on Alabama, where they hope on Dec. 12 to defeat Republican Senate candidate Roy Moore, 70, who has strongly denied claims by multiple women that he sexually assaulted or sought to date them when they were teenagers and he was in his early 30s. One of the women said Moore molested her when she was 14. President Donald Trump, who has denied harassment accusations from more than a dozen women, endorsed Moore this week, saying on Twitter, "We need his vote."
The public calls for Franken to resign first came from Senators Kirsten Gillibrand of New York, Claire McCaskill of Missouri, Mazie Hirono of Hawaii, and Kamala Harris of California. Others joined, including Tammy Baldwin of Wisconsin, Maggie Hassan of New Hampshire, Heidi Heitkamp of North Dakota, Maria Cantwell of Washington, Tammy Duckworth of Illinois and Debbie Stabenow of Michigan. Elizabeth Warren of Massachusetts told Franken Tuesday he must quit, an aide said.
Democratic National Committee Chairman Tom Perez, second-ranking Senate Democrat Dick Durbin of Illinois and additional male Democratic senators joined the women's call.
Franken's office gave no further details on his planned statement. His fellow Minnesota Democrat, Senator Amy Klobuchar, wrote on Twitter that she spoke with Franken Wednesday and added, "I am confident he will make the right decision."
'Tipping Point'
Gillibrand told reporters that Democrats have been discussing the allegations against Franken and that a new claim reported by Politico Wednesday morning was a "tipping point." She said, "Enough is enough."
Schumer called Franken and told him he needed to step down shortly after the Politico story was published, according to a person familiar with the situation. The two spoke by phone several times throughout the day, and Schumer also met with Franken and his wife at the minority leader's apartment, the person said.
Joining the women in calling for Franken's resignation were Democratic Senators Bob Casey of Pennsylvania, Sherrod Brown of Ohio, Ed Markey of Massachusetts, Michael Bennet of Colorado, Tom Carper of Delaware, Patrick Leahy of Vermont, Jeff Merkley of Oregon, Martin Heinrich of New Mexico and Joe Donnelly. Casey wrote on Twitter, "We can't just believe women when it's convenient."
Senators Bernie Sanders of Vermont and Angus King of Maine, independents who caucus with the Democrats, also said Franken should resign.
Understanding What Is and Isn't Sexual Harassment: QuickTake Q&A
If Franken decides to resign, Minnesota's Democratic governor, Mark Dayton, would appoint a replacement who would serve until next November's election. Minnesota Democrats have a deep bench; top contenders would include Representative Keith Ellison of Minneapolis, the first Muslim elected to Congress, and Representative Betty McCollum of St. Paul.
The female senators' messages came hours after Time magazine named as its Person of the Year the "Silence Breakers" -- women who have come forward to tell stories of being sexually harassed, starting with allegations that toppled Hollywood movie mogul Harvey Weinstein.
Late last month, Franken apologized and acknowledged a woman's claims that he groped and forcibly kissed her during a military-sponsored entertainment tour to the Middle East in 2006, two years before he was elected to the Senate. Several other accusers came forward after that. He and other Democrats called for a Senate Ethics Committee investigation into his conduct after the first allegation, but that didn't stem the damage.
Arbitration Measure
Franken denied a report Wednesday by Politico that he tried to forcibly kiss a former Democratic congressional aide after a taping of his radio show in 2006.
The calls for Franken's resignation come as Congress seeks to address sexual harassment in the workplace and on Capitol Hill. Lawmakers in both chambers introduced legislation Wednesday that would bar employers from requiring workers who allege harassment or gender discrimination to use arbitration to resolve their complaints. Arbitration often results in smaller settlements for accusers and allows abusers to benefit from secret deals. Sponsors include Gillibrand and GOP Senator Lindsey Graham of South Carolina.
"You're going to lose if you fight this," Graham said in a message to business groups including the U.S. Chamber of Commerce. "You're going to win if you embrace this."
The backlash against Franken is fueled in part by women elected to the Senate in the last decade. Most of the Democratic women who participated in the collective call for the senator to resign were elected starting in 2010.
Throughout U.S. history, only 50 women have served in the Senate, according to the Senate Historical Office. Of those, 21 are serving in the chamber now and 16 of them are Democrats.
(
Adds detail about Schumer involvement in 14th paragraph.
)