politics
Trump Recognizes Jerusalem as Israeli Capital in U.S. Shift
By
Trump Recognizes Jerusalem as Israeli Capital in U.S. Shift
By
U.S. isn't taking position on 'final status' for city, he says

World leaders balk at U.S. plan, which includes moving embassy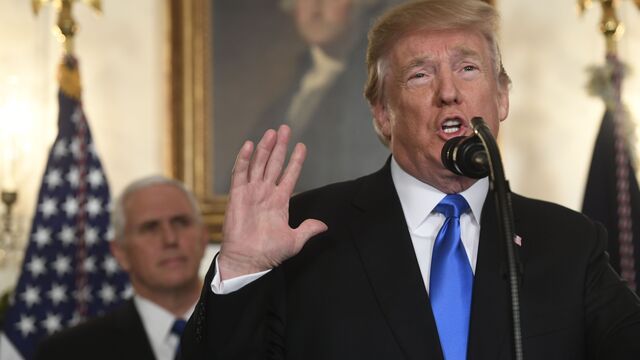 President Donald Trump on Wednesday recognized Jerusalem as Israel's capital and announced he would begin moving the U.S. embassy there, despite warnings from leaders across the globe that the move would undermine peace efforts and spark violence.
"It is time to officially recognize Jerusalem as the capital of Israel," the president said in a statement from the Diplomatic Room at the White House. "This is nothing more or less than a recognition of reality. It is also the right thing to do."
Vice President Mike Pence stood behind Trump as he spoke, and Pence will travel to the region later in the month.
Secretary of State Rex Tillerson -- who had recommended against the announcement, according to one person familiar with the deliberations -- said his department would immediately begin preparations to move the U.S. embassy.
"We have consulted with many friends, partners, and allies in advance of the President making his decision," Tillerson said in a statement. "We firmly believe there is an opportunity for a lasting peace."
Why Jerusalem's Status Is a Capital Controversy: QuickTake Q&A
Israeli Prime Minister Benjamin Netanyahu welcomed the move, saying in a video posted to YouTube that his his country is "profoundly grateful" for Trump's "courageous" and "just" action.
But British Prime Minister Theresa May criticized the move in a written statement issued by her government, calling the step "unhelpful in terms of prospects for peace in the region."
Leaders from France to Saudi Arabia warned ahead of Trump's declaration that the announcement would risk fresh violence and could bury hopes for resolving the Israeli-Palestinian conflict.
"The Kingdom expresses its denunciation and deep regret that the administration has taken this step, as it represents a great bias against the historic and permanent rights of the Palestinian people in Jerusalem," said a statement from Saudi Arabia's royal court reported by the Saudi Press Agency on Thursday.
"The Government of the Kingdom of Saudi Arabia hopes that the U.S administration will reverse this action," the statement said.

'Reward Israel'
Palestinian Authority President Mahmoud Abbas said in Arabic in a speech following Trump's announcement that "these actions reward Israel for denying all agreements and defying international legitimacy and encouraging them to continue the policy of occupation, settlement, apartheid and ethnic cleansing."
"This will serve extremist groups that are trying to transform the conflict in our region into a religious war," he said, adding that the announcement was tantamount to a U.S. "declaration of withdrawal" from its role in the peace process.
Recognizing Jerusalem as Israel's capital is provocative because the eastern sector of the city -- home to some of the holiest ancient sites in Judaism, Christianity and Islam -- is also claimed by Palestinians as the capital of a future state.
While Congress passed a law in 1995 recognizing Jerusalem as Israel's capital and requiring the president to move the U.S. embassy now in Tel Aviv to the city, previous presidents avoided taking steps that could be seen as prejudging the city's final status. Presidents have consistently exercised a waiver allowing them to delay moving the embassy for national security reasons.
Trump said that in taking the step the U.S. "is not taking a position on any final status issues including the specific boundaries of Israeli sovereignty in Jerusalem."
He said the U.S. would continue to support "a two-state solution if agreed to by both sides."
"This decision is not intended in any way to reflect a departure from our strong commitment to facilitate a lasting peace agreement," Trump said. "We want an agreement that is a great deal for the Israelis and a great deal for the Palestinians."
State Alerts
Trump's declaration risks alienating Muslim allies assisting in U.S. military operations in the region and sacrificing U.S. credibility as an arbiter in the decades-long effort to broker peace in the region.
U.S. facilities in the Middle East are bracing for possibly violent protests in the aftermath of the decision. The State Department has sent alerts to embassies and consulates in Muslim-majority countries last week to warn them of unrest, and the U.S. consulate in Jerusalem has warned employees and their families to limit personal travel.
Relocating the embassy will take years, senior administration officials said as they briefed reporters about the decision on the condition of anonymity Tuesday night. They said there was no specific timetable for the move, but that new embassy construction typically takes 3-4 years.
President Emmanuel Macron warned Trump against the move in a call earlier this week, according to a statement from the French government.
At his weekly audience, Pope Francis called on "everyone" to respect the status quo in Jerusalem. He prayed for "wisdom and prudence to prevail to prevent new elements of tension from being added to a global context already convulsed by so many cruel conflicts." He joined a chorus of pleas from European and Muslim leaders to scuttle the move. 
Leaders across the Middle East, including from Jordan, Egypt, Turkey, Saudi Arabia and the Arab League have also spoken out against the plan, and Iran's Supreme Leader Ayatollah Ali Khamenei called Trump's plan a sign of U.S. "failure and impotence."
"It is of vital importance for the future of the region and global peace that the U.S. president not make such a statement," Turkish Prime Minister Binali Yildirim said during a trip to South Korea on Wednesday, hours before Trump's announcement. Yildirim said the decision was "unlawful" and "could make already existing problems in the region more tangled." On Tuesday, Turkish President Recep Tayyip Erdogan threatened to cut recently restored ties with Israel.
— With assistance by Fadwa Hodali, Michael Arnold, Jonathan Ferziger, Amy Teibel, and Saud Abu Ramadan
(
Updates with comment from Kingdom of Saudi Arabia in 9th paraggraph.
)