business
Knicks Owner Calls on Judge for Video Review in Oakley Lawsuit
By
Knicks Owner Calls on Judge for Video Review in Oakley Lawsuit
By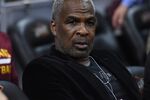 Let's go to a video review!
A lawyer for Madison Square Garden Co. Chairman and Chief Executive Officer James Dolan urged a federal judge to take a look at replays of Charles Oakley's scuffle with security, saying it'll prove the former New York Knicks player's defamation claims are wrong.
"I think you will be shocked at what you see," Randy Mastro, Dolan's lawyer, told U.S. District Judge Richard Sullivan during a hearing in Manhattan Friday, adding the images depict Oakley assaulting security guards who were treating him with respect. "The video doesn't lie."
Douglas Wigdor, Oakley's lawyer, said surveillance and television images don't show exactly what Mastro claims and there many different camera angles.
Oakley, a former All-Star power forward who played in the National Basketball Association for 19 years, sued the Garden and Dolan in September, claiming he was assaulted when he was thrown out of a game in February and then subjected to a smear campaign that included accusations he was an alcoholic.
Sullivan didn't seem eager to go right to the video. He said it might be too early to introduce such evidence because Oakley's claims are based mainly on Dolan's statements made after the night in question.
Oakley, 54, was with the Knicks for a decade, earning a spot on the All-Star team in the 1993-94 season and helping lead them to the finals that year. His ejection, which resulted in assault charges, played out live on television and led to a public battle between him and Dolan. Oakley came to an agreement with prosecutors in August under which the charges will be dropped if he isn't arrested within six months.
The case is Charles Oakley v. James Dolan, 17-cv-06903, U.S. District Court, Southern District of New York (Manhattan.)