markets
U.S. 2-Year Yield Tops 2% for First Time Since Financial Crisis
By and
U.S. 2-Year Yield Tops 2% for First Time Since Financial Crisis
By and
Short-term rates climb as Fed poised to further tighten policy

CPI, retail sales data drive Fed March hike odds above 80%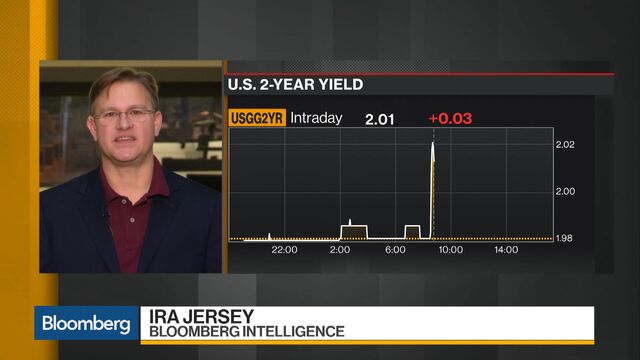 The two-year Treasury yield jumped above 2 percent, marking a rebound to a key psychological level last seen just as the U.S. sank into the depths of the financial crisis in September 2008.
The past 14 months have witnessed a remarkable reversal for the coupon maturity that's most sensitive to Federal Reserve expectations. After failing to eclipse 1 percent through much of 2016, the yield surged following President Donald Trump's election victory, and kept climbing throughout 2017 as policy makers delivered on their promised three rate increases.
Data Friday showing that the underlying pace of U.S. inflation accelerated last month finally drove it above 2 percent, as traders priced in a growing likelihood that the Fed would follow through on its projection of three rate increases this year. Treasuries fell broadly, led by shorter maturities, with the difference between yields on five- and 30-year maturities approaching the smallest since 2007.

The latest inflation reading "has left the market pricing in higher odds of a March rate hike and the odds of more rate hikes in 2018 have increased as well," said Gennadiy Goldberg, a strategist at TD Securities in New York. "We're seeing the market move toward the Fed so we should see more curve flattening and more pressure on the front-end."
The last time investors saw two-year Treasuries yielding 2 percent was Sept. 30, 2008, about two weeks after the collapse of Lehman Brothers Holdings Inc., which sparked a global flight to safety. On Sept. 15, the day of the bankruptcy filing, the yield plunged 50 basis points, driving it below 2 percent on an intraday basis.
After a turbulent stretch where the Treasury and the Fed tried to bolster confidence in the financial system, the yield closed below 2 percent at the end of September 2008 and remained below that mark until today. In September 2011, it set a record low of 0.143 percent, with the Fed's benchmark rate locked near zero.
S&P Comparison
Now, in a development that may have seemed unthinkable during much of the economic recovery, the two-year note provides investors with more income than dividends on the S&P 500 Index. 
Just 18 months ago, investors grappled with the prospect of an unprecedented drop in 30-year yields below 2 percent. While that didn't happen, the yield spread between long- and short-maturity Treasuries has continued to shrink, flattening the yield curve.
Bond traders are betting the Fed will gradually raise rates in 2018, meaning the two-year yield may have more room to climb. Traders are now factoring in almost 2 1/2 Fed hikes for 2018, up from the two increases that were priced in as of Dec. 20, based on fed fund futures.
The market's reaction to Friday's data may have been magnified by a spate of debt auctions this week, as well as comments Thursday from New York Fed President William Dudley, according to Tom Roth, head of Treasuries trading at MUFG Securities.
Dudley said that while three moves this year "doesn't seem to be an unreasonable sort of starting point," the ultimate pace of tightening will depend on how the economy evolves.
"They seem to be admitting that stronger growth is possible all of a sudden," Roth said. However, "you have to take into account that we just placed a bunch of supply" at yields below where the market was trading at the time, "so the buyers may be exhausted."
— With assistance by Elizabeth Stanton
(
Adds market's Fed expectations for 2018.
)