Sports
Billionaires and Athletes Freeze as Winter Smacks Olympics
By and
Billionaires and Athletes Freeze as Winter Smacks Olympics
By and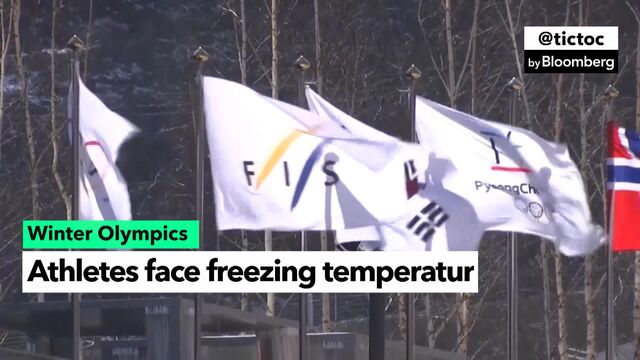 It ain't the Game of Thrones, but these Olympics are being lashed by a winter that's proving a little too cold for comfort.
With temperatures dipping to as low as minus 25 degrees Celsius, the games in South Korea are poised to be the coldest in two decades. The freezing weather, combined with wind gusts of more than 45 miles an hour at some venues, has delayed three alpine skiing competitions and fueled concerns over the safety and performance of athletes. It's also not sparing the throngs of spectators and other celebrities at the event in Pyeongchang.
"Yesterday was my first time at the Olympic Games and the ceremony. It was so cold," Jack Ma, the billionaire founder of Alibaba Group Holding Ltd., said at an event the day after the Feb. 9 opening ceremony, drawing chuckles from the audience. "But it's exciting, it's warm in the heart."

Ma recalled the frigid night twice more during the event where he spoke about the company's cloud services and preparations for the 2022 Beijing Winter Olympics.
For the athletes, the cold and wind is standing in the way of potential sporting glory they've been aspiring to after years of preparation. "It's a challenge with the combination of cold weather and strong winds," said Petter Kukkonen, the Finland coach for the Nordic Combined event, which involves cross-country skiing and ski jumping.

The wind is stronger than in Finland, he said. "We postponed our jumping training yesterday because of the strong wind. This is outdoor sports, and it's a big dream of every four years and if it's ruined by the wind, it can be sad," Kukkonen said.
ALSO READ: How North Korea Managed to Crash the Olympics Party
Audiences watching the games are also facing difficulties because of the adverse weather, said Sung Baik-you, the spokesman at the Pyeongchang Olympics committee. About 900,000 tickets have been sold so far, including about 209,000 to visitors from overseas, according to the committee.

— With assistance by Sam Kim
(
Adds tout before penultimate paragraph.
)