Politics
Rex Tillerson's No Good, Very Bad, Final Week
On his last official trip, the ex-secretary of state tried to put out diplomatic fires set by his boss.
By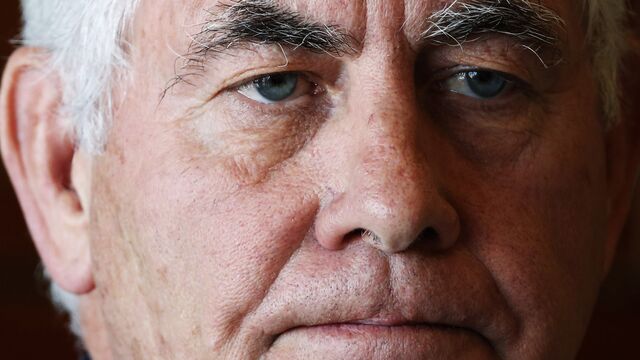 Rex Tillerson was asleep on March 9 in the luxurious Sheraton Resort in Addis Ababa, Ethiopia, when President Donald Trump woke him with a 2 a.m. phone call to say he'd already decided, without consulting or warning his top diplomat, to accept a meeting with North Korean leader Kim Jong Un.
It was the last real bit of sleep Tillerson would get in three days. The week before had been hard: Tillerson's father had died, and he'd taken a few days off for the funeral. Now he had to deal with Trump's latest "breakthrough." On his first trip to Africa as secretary of state and several time zones ahead of his boss, Tillerson launched into a succession of phone calls with foreign leaders to inform them that, yes, Trump had just decided to blow up decades of foreign policy convention for what could be the most momentous handshake between a U.S. president and a foreign counterpart since Richard Nixon went to China.

By doing so, Trump also upended the carefully laid plans of advisers such as Tillerson, who'd envisioned a process that might eventually lead to a meeting with Kim, but only after painstaking, monthslong deliberation regarding all the possible pitfalls and dangers of such a move—and, most important, to assess whether North Korea's offer was genuine. Instead, Trump had summoned a visiting South Korean delegation to his office a day earlier than planned to brief him on its own trip to Pyongyang, and the president decided on the spot to meet Kim.
"I think I had four hours of sleep in 72 hours because of a lot of what's going on," a clearly exhausted Tillerson told reporters on the flight home from Nigeria. He'd spent one day with a stomach bug and was returning a day early to prepare for meetings on North Korea, tariffs, and other issues on Washington time. "I felt like, look—I just need to get back."

Tillerson said the Trump administration had known via direct, private channels with North Korea that Kim had long wanted a meeting with Trump. But the administration was surprised that the North Korean leader was so forward-leaning in his offer, at least as South Korea presented it: a commitment to suspend nuclear and missile tests, accept the reality of US.-South Korean military exercises, and to work toward giving up his nuclear weapons completely.
Tillerson, who thought the talks to arrange a meeting would go at a marathoner's pace, suddenly saw that Trump and Kim were running at a sprint. Kim's posture had changed in a "fairly dramatic way that, in all honesty, was a—came as a little bit of a surprise to us," Tillerson said on another stop, in Djibouti.
On March 13, Tillerson was blindsided when a staffer read him the latest Trump tweet: He'd been fired as secretary of state and replaced by CIA Director Mike Pompeo. Tillerson's experience meeting dictators and autocrats over his 40 years at Exxon Mobil Corp., tussling with Gulf sheikhs, Hugo Chávez, and Vladimir Putin, would have been useful to the president, who almost certainly has never met anyone like Kim. Tillerson had his strategy: He describes it as making an early connection and using trust established at the start to sustain momentum. He is a man who professes to live by the motto, "My word is my bond."
"Every one of them are different, so you really got to do your homework. And in my past, I did an enormous amount of reading," Tillerson said on his way home from Africa. "It's going to be hard, you're going to disagree. People are going to walk away, but you establish this connection early on that says, 'We're going to figure this out.'"
"I have a lot of confidence in my ability to create the conditions for successful negotiations between two very disparate parties," he said. That may be, but one crucial person who doesn't share that confidence is his now-former boss, Donald Trump. 
Before it's here, it's on the Bloomberg Terminal.
LEARN MORE