politics
Tillerson Never Clicked With Trump as Policy Views Diverged
By
Tillerson Never Clicked With Trump as Policy Views Diverged
By
Trump frequently undercut his chief diplomat on Twitter

Tillerson clashed with Kushner over Middle East policies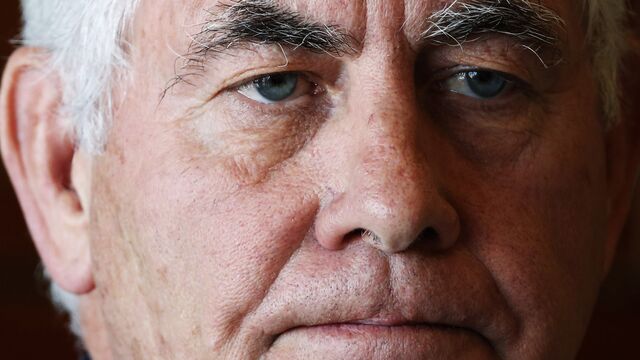 Secretary of State Rex Tillerson and his aides always downplayed their differences with the White House, but the gap that separated them was obvious from the start.
There were the policy disagreements that Tillerson made no secret about: he favored staying in the Paris climate change accord and opposed blowing up the Iran nuclear deal. He preached balance and calm during a crisis in the Middle East between a Saudi Arabia-led bloc and Qatar, while Trump came down on the side of the Saudi leadership. All along, he urged caution and diplomacy in North Korea.
Tillerson's aides long insisted that was what Trump wanted: a secretary of state who challenged him, presented him with options, and sparred with him.
Yet while Trump had initially praised the former Exxon Mobil Corp. CEO as a deal-maker who could get the job done, the starkest difference was their temperament: Trump followed his gut while Tillerson, an engineer, relished process and preparation. Trump wanted to shake the establishment while Tillerson embraced it. The president mocked his foes -- and sometimes his own secretary of state -- on Twitter; while Tillerson believed tough messages were best conveyed in private and was said to despise social media.
Read a timeline on Rex Tillerson's short tenure as top U.S. diplomat
From the very start, Tillerson acknowledged the challenge. When asked last August about the difficulties of working in Washington after 40 years at Exxon, he lamented the chaotic decision-making of the U.S. government. In retrospect, he was talking about Trump.
At Exxon, "People knew me very well and they knew what to expect and I knew them very well and I knew what to expect and we had very long-standing disciplined processes and decision-making," Tillerson said at the time. "Those are not the characteristics of the United States government."
On every foreign trip, the White House, and Trump in particular, seemed to make a habit of undercutting the secretary. Tillerson was far too discrete to ever complain, even in private. But for a man who plans meticulously, it would have been jarring: Trump embarrassed him on Twitter last year by saying talks with North Korea would be a waste of time. Then, last week, he shocked his secretary of state by accepting Kim Jong Un's invitation to meet, without seeking his secretary's advice.
Late last year, Tillerson called a rare press briefing to address reports that he called the president a "moron" in a private meeting. But he declined to directly deny the report, instead sending a spokeswoman out afterwards to clarify his statement.
Read how Jared Kushner left Tillerson in the dark on his Middle East talks
Reporters frequently peppered Tillerson with questions about the apparent strife. He always put it down to the president's unique way of communicating with his supporters. The policy, he insisted, had never changed.
But to those covering Rex Tillerson's State Department, it was always clear there were two foreign policies, and two power centers. And while Tillerson's staff sought to nurture ties with the White House, the affection never seemed to flow the other way: last year in Manila, where Tillerson accompanied Trump on a trip through Asia, White House aides repeatedly vented their frustration with the secretary of state over what they saw as his plain-vanilla foreign policy thinking and his slowness to act.
The clashes extended to the slow staffing at State, for which Tillerson has taken most of the blame. Yet the slowness was partly the result of bickering between Tillerson and the White House: while Trump viewed career foreign service officers with suspicion and sought to fill posts with loyalists despite their lack of foreign policy experience, Tillerson often battled back, looking to install seasoned diplomats.
'Played It Badly'
Things got so bad that by late last year, the Office of Presidential Personnel, led by Johnny De Stefano, was intentionally slow-walking Tillerson's appointments, according to people familiar with the matter. Their idea was to wait Tillerson out until Trump finally got around to firing him.
To observers the outside, the clock on Tillerson's tenure appeared to be winding down.
The biggest clash came with Jared Kushner, Trump's son in law and senior adviser. Tillerson was always uneasy with Kushner's role in the Middle East peace process, fearing that the 37-year-old didn't have the sufficient experience or wisdom to negotiate such a historically complex issue. He feared that Kushner's scheming with another neophyte, Saudi Crown Prince Mohammed bin Salman, would have disastrous results.
Kushner's Diplomacy
Last year, Tillerson even took his concerns straight to Trump, fearful that Kushner was freelancing on the project without informing the State Department or even Trump himself and creating a potentially explosive crisis.
By this week, Tillerson refused to even engage on the situation with Kushner. Asked during a stop in Abuja, Nigeria on Monday if the president's son-in-law was playing a helpful role in diplomacy, he dodged:
"This trip to Africa has been really important for the administration and that's what I've been focused on this past week as you know," he said. "I think with respect to Mr. Kushner's portfolio of assignments that the president has given him, I think it's best to leave any comment on that to either himself or the White House."
Tillerson and his aides have always said he was prepared to be fired, and would be happy to go back to his ranch in Texas -- where his wife Renda is a renowned trainer of cutting horses -- and go for rides with his cowboys and his favorite horse, Blue. He took the job out of a sense of obligation and service -- he was an Eagle Scout yet he never served in the military; he said he missed the draft by three places in high school.
"I'm motivated to serve the country and serve this president," Tillerson said in an interview last October. "Until somebody tells me your services are no longer needed or wanted, that's what I'm going to keep doing."