politics
CIA Pick Haspel to Face Questions on Interrogations
Nafeesa Syeed
CIA Pick Haspel to Face Questions on Interrogations
Nafeesa Syeed
Veteran CIA spy would be the first woman to lead the agency

Human rights activists condemn Haspel over secret prisons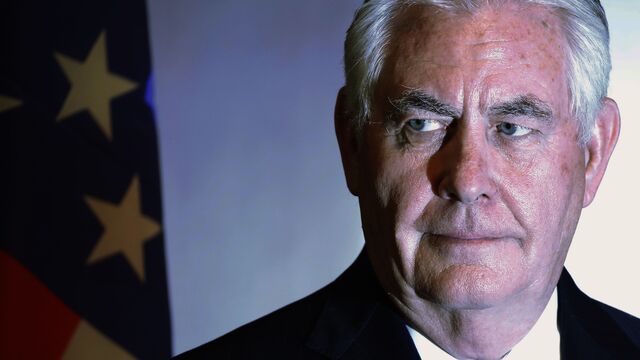 President Donald Trump's nominee to lead the CIA would make history as the first female director of the intelligence agency, but first she'll face questions about her past role in U.S. interrogation programs overseas.

Trump fired Secretary of State Rex Tillerson Tuesday, saying he's replacing the former Exxon Mobil Corp. chief with his Central Intelligence Agency Director Mike Pompeo. In a tweet announcing the moves, the president also named Gina Haspel, who has served as Pompeo's deputy since last year, as his pick to lead the agency.
As deputy director, Haspel helped manage intelligence collection, analysis, covert action, counterintelligence and relationships with overseas counterparts. When Trump decided to bomb Syria in response to chemical weapons attacks last April, Haspel was among the officials in the White House situation room with Vice President Mike Pence.
But Haspel's confirmation hearing before the Senate Intelligence Committee will turn in part on her role in the CIA's covert program under President George W. Bush in which suspected terrorists were subjected to harsh interrogation methods, including waterboarding, which simulates drowning.
Haspel, 61, joined the Central Intelligence Agency in 1985, according to the agency's website. But for much of her career, Haspel was a working spy: She was chief of station in at least one of her overseas postings and held other positions including deputy director of the National Clandestine Service.
'True Professional'
Senate Intelligence Committee Chairman Richard Burr, a North Carolina Republican, said he will support Haspel's nomination, as did committee member Tom Cotton. The Arkansas Republican called her a "true professional" who has "worked closely with Mike and the national-security team over the last year."
But critics also weighed in. Haspel's nomination shows Trump's commitment to "controversial torture and rendition practices that have been universally rejected by foreign policy professionals," Mieke Eoyang, a former Democratic House Intelligence Committee aide and vice president for national security at Third Way, a Washington policy group.
Senator Ron Wyden, an Oregon Democrat and member of the Intelligence panel, said he will oppose Haspel's nomination. If Haspel "seeks to serve at the highest levels of U.S. intelligence, the government can no longer cover up disturbing facts from her past," he said in a statement.
Senator Dianne Feinstein, the committee's top Democrat, said in a statement that "it's no secret I've had concerns in the past with her connection to the CIA torture program," but added, "to the best of my knowledge she has been a good deputy director."
Oversaw Interrogation
Haspel at one point oversaw a CIA prison in Thailand, according to ProPublica. But the news organization on March 15 retracted its report that she was in charge of the clandestine base at the time of the interrogation and torture of Abu Zubaydah, an al-Qaeda leader who was waterboarded. Later, Haspel was involved in a decision to destroy videos showing harsh interrogation techniques, the New York Times has reported.
Within the CIA, Haspel's nomination "will go over very well" with the agency's workforce, "more because she's a career professional than the fact that she's a woman," according to Nicholas Dujmovic, who spent 26 years at the CIA and is director of the intelligence studies program at Catholic University of America in Washington.
Dujmovic described Haspel as "a quiet, understated, no-nonsense intelligence professional," in contrast with "Pompeo's colorful and sometimes bombastic personality."
Haspel has "controversy in her past" around the issue of renditions, but "will largely be welcomed in the agency" after "Pompeo who was seen by many as having his political thumb on the scale," David Rothkopf, a visiting scholar at the Carnegie Endowment for International Peace, said in a tweet Tuesday.
Michael Morell, former acting director of the CIA, has called Haspel "exceptional." Some of the assignments she took have "come under political fire, but in each case she was following the lawful orders of the president," Morell wrote on "The Cipher Brief" website in February 2017.
(
Corrects story published March 13 to show ProPublica retracted its account of Haspel's role in interrogations in 10th paragraph.
)