markets
Five Things You Need to Know to Start Your Day
By
Five Things You Need to Know to Start Your Day
By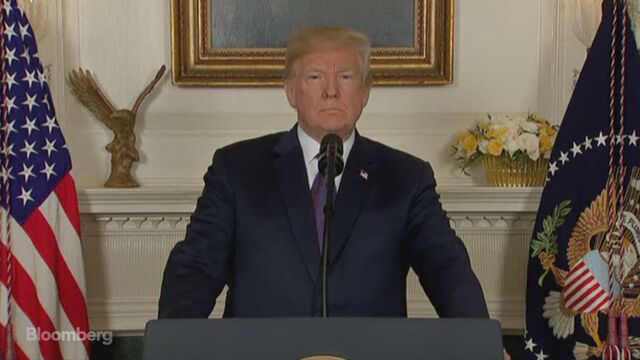 Want to receive this post in your inbox every morning? Sign up here.
China and Japan join forces on North Korea, more Russia sanctions after Syria attack, and S&P 500 Index futures climb at the start of the week. Here are some of the things people in markets are talking about.
Pushing North Korea on Weapons  
The foreign ministers of China and Japan agreed to work closely to push North Korea to abandon its nuclear program, in the latest sign of improved cooperation between Asia's two largest economies. Japanese Foreign Minister Taro Kono spoke to reporters Sunday in Tokyo after a meeting with Chinese counterpart Wang Yi, who made the first trip of its kind to Japan in more than eight years. It comes ahead of a summit between the two Koreas and a potential meeting between U.S. President Donald Trump and Kim Jong Un. China and Japan are trying to repair relations amid policy whiplash from the U.S. over trade and security. But whether Kim gives up his nuclear arsenal still remains to be seen. 
Russia Sanctions for Syria
Fresh sanctions will be imposed on Russia related to Syria's reported use of chemical weapons as the U.S. and U.K. assess the fallout and next steps after Friday night's strike on the Middle Eastern country, the top U.S. diplomat to the United Nations said. UN Ambassador Nikki Haley, speaking Sunday on CBS's "Face the Nation," said U.S. Treasury Secretary Steven Mnuchin will announce new sanctions Monday that "go directly to any sort of companies that were dealing with equipment" related to Syrian leader Bashar al-Assad and his chemical weapons. President Donald Trump declared "mission accomplished" via Twitter on Saturday. 
Coming Up…
The data docket looks light on Monday, allowing traders a breather after last week's FBI raids and Syrian strike. Tuesday will offer some meatier events, with China reporting first-quarter GDP along with retail sales and industrial output for March. Singapore will detail export figures, while the Reserve Bank of Australia is set to release minutes of its April meeting. Wednesday brings Japanese trade figures and Thursday New Zealand CPI, with Australian jobs data coming later on in the day. Friday will be highlighted by Japanese inflation figures for March.
U.S. Equity Futures Climb 
Traders largely took the view that the U.S.-led missile strike on Syria won't lead to a protracted conflict. Futures on the S&P 500 index rose and the yen weakened as of 7:44 a.m. in Tokyo. That may lend some support to equity markets across Asia where futures pointed to a muted start to the week. The dollar edged lower as CFTC data showed hedge funds are the most bearish on the greenback in five years.
Powering Ahead 
China's economy is expected to have brushed off trade wars, debt mountains and regulatory crackdowns in the first quarter.  According to the median estimate of economists in a Bloomberg News survey, growth maintained a 6.8 percent pace, well ahead of a target for about 6.5 percent expansion this year. The report is due for release Tuesday. 
What we've been reading
This is what caught our eye over the last 24 hours.