politics
How 105 Missiles Show Assad's Future Is Safe
By
How 105 Missiles Show Assad's Future Is Safe
By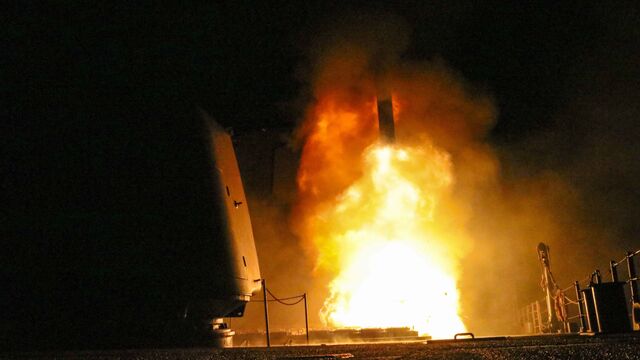 "Want to receive this post in your inbox every morning? Sign up for the Balance of Power newsletter, and follow Bloomberg Politics on Twitter and Facebook for more
Hours after more than 100 cruise missiles slammed into Syria, a confident President Bashar al-Assad, dressed in a dark suit and tie, strode through the gates of his palace.
"The aggression will only increase Syria's determination," Assad said in his first comments after the strike.
While the attack by the U.S., Britain and France destroyed military positions and research facilities linked to chemical weapons, it did little to degrade Assad's capacity to wage war, or target the fighters from Russia, Iran and Hezbollah supporting him.
The action has underlined that the NATO powers won't tolerate the use of chemical weapons. But it also telegraphed to Assad that his position is safe and pretty much anything else goes. As U.K. Prime Minister Theresa May said: The attack "was not about regime change."
Without a serious step up in allied strikes in both frequency and size — and right now there is no sign that will happen — there's no stopping Assad. He has already all but won his war, and those in the triple alliance supporting him can get back to pursuing their policy objectives.
It's business as usual for the former ophthalmologist, whose family has ruled Syria for half a century. He's presided over a war that's killed about 500,000 people and forced millions from their homes. And he's free to keep strolling through his presidential palace.

Latest Syria Coverage
Trump's warship ruse | As images of sick or dying children flooded global media last week, the USS Winston Churchill churned toward the Mediterranean to join another U.S. destroyer, the USS Donald Cook. While the two vessels carried as many as 90 Tomahawk missiles — the main weapon used in the Friday evening strike — neither ship in the end fired a shot. Instead, they were part of a plan to distract Syria and its ally Russia, our Washington team reports.
Putin relaxed | Russian President Vladimir Putin denounced the strikes as an "act of aggression" but made no mention of possible retaliation. Russia's defense ministry reported no casualties, either Syrian or Russian, or serious damage. Not a bad outcome for Putin, especially given that the U.S., U.K. and France have indicated they've reached the limits of their military ambitions in Syria — for now at least.
Out on a limb | May insisted she was right to order airstrikes against Syrian chemical weapons facilities without first seeking the backing of lawmakers, as the opposition accused her of being steered by U.S. President Donald Trump. She'll face her opponents tomorrow in parliament, where her party lacks a majority, and the speaker may decide to give them a retrospective vote on the attacks.
Missile launch | Friday's barrage included the first combat deployment of Lockheed Martin's stealthy new air-launched cruise missile, produced as part of a $4.6 billion defense program. The weapon has a low radar cross-section that makes it difficult to detect and is designed to penetrate as far as 200 miles (322 km) into enemy territory, Tony Capaccio reports.

(No) market panic | Stocks across most Arab markets advanced today as the risk of a military showdown between the U.S. and Russia in Syria faded. Investors and analysts are more focused on Qatar's bumper bond sale, Filipe Pacheco and Manus Cranny report. 
And finally… When Trump declared "mission accomplished" early Saturday, he inevitably sparked comparisons to George W. Bush's much-mocked May 2003 pronunciation on the Iraq war. Speaking on the deck of an aircraft carrier in front of a banner with those words displayed, Bush declared an end to America's combat operations in Iraq two months after the invasion. Fifteen years later, the U.S. military is still there. 

— With assistance by Kathleen Hunter, Ben Sills, Alaa Shahine, Donna Abu-Nasr, and Zainab Fattah