deals
Optical Stocks Tumble After U.S. Blocks ZTE
By
Optical Stocks Tumble After U.S. Blocks ZTE
By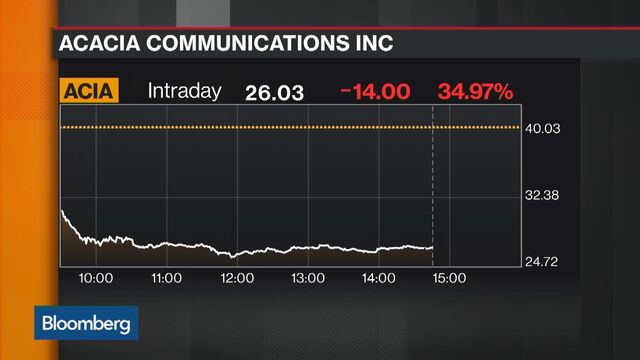 Shares of optical-component companies are sliding after the U.S. blocked Chinese telecommunications-gear maker ZTE Corp. from exporting sensitive technology from America.
Acacia Communications Inc., which gets about a third of its revenue from ZTE, according to Bloomberg data, slumped as much as 35 percent to $26 per share in a record decline. Oclaro Inc., which counts on ZTE for about 18 percent of its sales, fell as much as 18 percent to $7.76 in its biggest decline since November. Other exposed firms include Inphi Corp., NeoPhotonics Corp. and Lumentum Holdings Inc.

"With Acacia, Lumentum and Oclaro shares all under significant pressure, it's possible most of the bad news could be priced in to the shares of these companies today," Loop Capital Markets analyst James Kisner wrote in a note to clients.
Lumentum's deal to acquire Oclaro shouldn't be impacted by the ZTE news, according to MKM analysts. In March, the companies agreed to combine in a deal that valued Oclaro at $1.8 billion in cash and stock.
— With assistance by Joshua Fineman, and Tom Lagerman