markets
Inflation Could Heat Up as Populations Age: Eco Research Roundup
By and
Inflation Could Heat Up as Populations Age: Eco Research Roundup
By and
Goldman Sachs looks at improvements to U.S. economic data

Malaysia's minimum wage, Bitcoin prices also in focus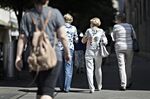 Monetary policy might not be the be-all and end-all for advanced-economy inflation.
A study published by the Bank for International Settlements suggests that a long-running trend -- the portion of the population in its working years -- explains much of the shift in inflation over recent decades, based on data stretching back more than a century and spanning 22 countries. It's the lead item in this week's economic research roundup, which also sums up studies on the outlook for big data, a minimum-wage experiment in Malaysia, and the impact of futures trading on Bitcoin. Check this column each week for new papers from around the world.
Silver Tsunami Inflation
The enduring link between demography and inflation
Published May 2018
Available on the BIS website
Here's a novel reason to expect higher inflation: population aging. In a working paper that builds on earlier research, Mikael Juselius and Elod Takats look at cross-country variation in inflation and demographics from 1870 to 2016 and find a strong relationship between the dependency ratio -- the share of the population outside of working-age years -- and price increases. Conversely, as the working-age population grows, as it did in the U.S. throughout Baby Boomers' adolescence and peak working years, inflation slows. In fact, the researchers estimate that the demographic trend accounted for 7 percentage points of the increase in U.S. inflation between the 1950s and 1970s, and then 7 percentage points of disinflation since the 1980s.

"The uncovered link is policy-relevant, because global aging will substantially increase the share of the old-age population in almost all countries," write Juselius, of the Bank of Finland, and the BIS's Takats. "Our estimates indicate that inflationary pressures are likely to rise in future due to the increasing share of older population cohorts and a declining share of younger ones."
Patience in a Time of Big Data
The Big Data Revolution in Economic Statistics: Waiting for Godot... and Government Funding
Published May 6, 2018
Available to Goldman Sachs subscribers
Big data holds big potential for refining government data and making it faster, but there are also significant barriers preventing rapid improvement. For one, funding for the Bureau of Labor Statistics -- the folks who roll out the monthly U.S. jobs report and consumer price index -- is down 12 percent in real terms over the past decade, Goldman Sachs's Spencer Hill notes. Plus, the agencies often lack the legal authority to obtain access to new datasets.
So what is happening? Hill says that within the next one to three years, he and his colleagues expect the CPI to expand online data collection and potentially reshuffle how it collects data on new cars. The BLS is exploring a worker-level wage dataset that could eventually cover as much as 97 percent of the workforce, and over at the Census Bureau, they might start using credit card data to complement existing surveys (that one is more uncertain).
Minimum-Wage Experiment
Special Feature: Minimum Wage
Published May 7, 2018
Available to Maybank research subscribers
Malaysia's experiment this year with a minimum-wage hike will offer another bit of evidence in a long-running debate over just how effective such a measure can be in juicing paychecks without straining employers. Given the direct raises mandated by a hike, as well as the knock-on effects for higher-paid employees, some 72.5 percent of workers will benefit from an anticipated move, according to a research note by Maybank analysts Suhaimi Ilias and Wong Chew Hann.
The Southeast Asian economy first implemented a minimum wage in 2014, with a revision in 2016 that brought it just above poverty-line income. The government has signaled that further increases would be under review about every two years. Both the incumbent and opposition parties have promised to raise the minimum wage to 1,500 ringgit ($380) a month over a five-year period, according to the note.
Employers already are dealing with a boost to labor costs this year, including from a higher levy for foreign workers. Some 61 percent of those surveyed by a government-associated research institution judged that the move would hurt profits, while 37 percent said it would lead to workforce reductions. The Maybank analysts raised the risk that employers might resort to automation rather than footing the higher labor bills -- a fresh test amid a global questioning around the rise of the robot.
Bitcoin's Bane
How Futures Trading Changed Bitcoin Prices
Published May 7, 2018
Available on the San Francisco Fed website
Bitcoin's price skyrocketed last year, starting the year around $1,000 and ultimately reaching $19,511 in mid-December. That peak came just as Bitcoin futures started trading on the Chicago Mercantile Exchange, and researchers at the San Francisco Fed and Stanford University say the subsequent slump is no coincidence. "The advent of blockchain introduced a new financial instrument, Bitcoin, which optimistic investors bid up, until the launch of Bitcoin futures allowed pessimists to enter the market," they argue. Before that, pessimists simply had no way to bet on their belief that Bitcoin's price was headed for a collapse.