technology
Some Prominent Hedge Funds Are Piling Into a Chinese Anime Website
By
Some Prominent Hedge Funds Are Piling Into a Chinese Anime Website
By
Four-year-old Bilibili attracted big names in first quarter

Most of video-streaming site's users are under the age of 30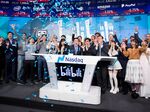 Some of the most prominent hedge funds in the world are betting on Bilibili Inc., the owner of China's most popular website for streaming animation videos that will report results for the first time as a public company on May 23.
Tiger Global Management, Point72 Asset Management and Millenium Management are among hedge funds who held stakes in Bilibili at the end of the first quarter, according to regulatory filings. Tiger is the biggest holder of Bilibili's American depositary receipts with a 3 percent stake.

Bilibili has gained 13 percent since its March 28 initial public offering. The Shanghai-based company had 71.8 million average monthly users in the fourth quarter, up 45 percent from the same period in 2016, Bilibili said in its IPO filing. As of the end of last year, about 82 percent of its users were born in China from 1990 to 2009, Bilibili said, citing data from QuestMobile. Bilibili had a net loss of $28.2 million in 2017 on revenue of $379.4 million.
In addition to consuming videos, Bilibili users can interact through a chatting feature that was used by an average of 15.2 million people per month last year. Bilibili will use funds from the offering to hire employees, increase network capacity and attract content creators, Chief Executive Officer Chen Rui said in a March interview.
Other investors include Chinese investment firm Hillhouse Capital Management, Jericho Capital Asset Management, SCGE Management and Maplelane Capital, according to filings.