economics
Facing ZTE Backlash, Trump Says Talks With China Are Just Getting Started
By
Facing ZTE Backlash, Trump Says Talks With China Are Just Getting Started
By
U.S. hasn't yet seen China trade demands, president says

Chinese Vice Premier Liu He Visiting Washington this week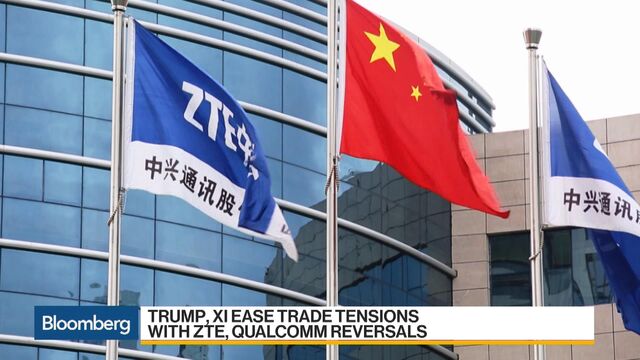 President Donald Trump continued to defend the lifeline he offered to Chinese telecom-equipment maker ZTE Corp., insisting trade talks with Beijing are just getting started.
"Nothing has happened with ZTE except as it pertains to the larger trade deal," Trump said in a series of tweets Wednesday.
The president surprised many in Washington over the weekend by saying he's working with Chinese President Xi Jinping to help ZTE "get back into business, fast." The Chinese company has been crippled by a U.S. decision to cut off its access to key components from American suppliers for making false statements in a sanctions case.
Trump's reversal was condemned by both Republican and Democratic lawmakers, and raised questions about whether the president was softening his approach in trade negotiations with China. Florida Republican Senator Marco Rubio said the move was a sign that the U.S. was about to "get out-negotiated by China again."
Chinese Vice Premier Liu He, Xi's top aide for economic matters, arrived in Washington this week for talks with the Trump administration on ways to resolve the trade dispute. Liu's visit follows a trip to Beijing earlier this month by a high-level U.S. delegation led by Treasury Secretary Steven Mnuchin.
Read More: How ZTE Ended Up in the Middle of U.S.-China Trade War
On Wednesday, the president appeared to suggest the negotiations are just getting started. He also cast doubt on the level of communications between the two sides.
Before officials traveled to Beijing for talks, the U.S. issued a series of demands, including that China reduce its trade surplus with the U.S. by $200 billion in two years. According to a document seen by Bloomberg News, Beijing asked the U.S. to open government procurement to Chinese firms, and soften the Commerce Department penalty on ZTE, among other things.
"We have not seen China's demands yet, which should be few in that previous U.S. Administrations have done so poorly in negotiating," Trump said. "China has seen our demands."
Uncertainty over relations between the U.S. and China has roiled financial markets and raised concerns among businesses worried about a trade war. Trump has threatened to impose tariffs on up to $150 billion in Chinese imports to punish Beijing for violating American intellectual property. China has vowed to retaliate on everything from U.S. soybeans to airplanes.
ZTE Sanctions
Liu is expected to spend four days in the U.S. for trade talks. On Wednesday, he will meet with Representative Kevin Brady of Texas, the Republican chair of the House Ways and Means Committee, along with other lawmakers, according to two Congressional aides. Liu will also meet with Senator Orrin Hatch, a Utah Republican, Hatch's spokeswoman said. Hatch chairs the Finance Committee, the Senate counterpart to Brady's panel. Both committees oversee trade policy.
"I'm going to urge them to stay at the table with the administration and work toward a level playing field, with fairness and protection of our" intellectual property, Brady said as he headed into the meeting with Liu. "It's an encouraging sign that all sides are at the negotiating table."
Trump's willingness to re-examine the ZTE sanctions was an abrupt shift from the campaign he has mounted against Chinese technology companies, which he regularly accuses of stealing American intellectual property and exploiting unfair trade rules.
The Commerce Department blocked ZTE's access to U.S. suppliers last month, saying the company violated a 2017 sanctions settlement related to trading with Iran and North Korea and then lied about the violations.
Commerce Secretary Wilbur Ross told reporters Monday at the National Press Club in Washington that the department is now considering "alternative remedies" for ZTE's sanctions violations and it will seek to resolve the issue "very, very promptly."
— With assistance by Saleha Mohsin, Jenny Leonard, Sahil Kapur, and Erik Wasson
(
Updates with Brady quotes in 11th paragraph.
)