politics
Trump Faulted for Failing to Disclose Payment to Stormy Daniels
By and
Trump Faulted for Failing to Disclose Payment to Stormy Daniels
By and
Director of ethics office writes to deputy attorney general

Ethics office releases president's financial disclosure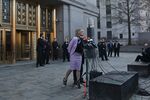 President Donald Trump should have reported a reimbursement to his attorney Michael Cohen for a payment to porn actress Stormy Daniels in his 2017 public financial disclosure, the director of the government's ethics office said.
The Office of Government Ethics concluded that "the payment made to Mr. Cohen is required to be reported as a liability," the agency's acting director David Apol said in a letter to Deputy Attorney General Rod Rosenstein.
Trump's attorney Rudy Giuliani disclosed recently that Trump reimbursed Cohen for the $130,000 payment to Daniels, whose real name is Stephanie Clifford. The money was intended to keep her from discussing an alleged extramarital affair with Trump prior to the 2016 election. Trump has denied any relationship with Daniels.
Apol's agency released Trump's 2018 disclosure on Wednesday, showing the president had at least $511 million of income in 2017. Under ethics rules, government officials report the value of their assets and the amount of their income in broad ranges.
In last year's disclosure, Trump reported making at least $528.9 million from January 2016 through April 15, 2017. However, the reports provide an incomplete disclosure of Trump's earnings because in both 2017 and 2018 he conflated total revenue at some of his businesses with his own personal income.
Trump's latest disclosure reveals that revenue at his hotel in the capital, the Trump International Hotel Washington DC, was $40.4 million in 2017. In last year's disclosure Trump reported revenue of $19.7 million for the hotel, which opened in September 2016.
He reported $25.1 million in resort revenue in 2017 from his Mar-a-Lago club in Palm Beach, Florida, where the president spends many weekends during the winter months. His nearby golf course in West Palm Beach had revenue of $12.8 million, but that was dwarfed by Trump National Doral in Miami, which brought in at least $74.7 million in golf resort related revenues.
His course in Bedminster, New Jersey, where Trump spends weekends during the summer months, had revenue of $15.1 million. His course in Turnberry, Scotland, had revenue of $20.3 million.
Melania Trump, the president's wife, gained a new source of income last year. She disclosed up to $1 million in royalties from Getty Images Inc. for use of photos.
For his golf and some hotel properties, Trump disclosed revenue rather than income, as is requested in the disclosure form. It isn't clear whether some of those assets are profitable, or how much personal income Trump derived from them.
Disclosed revenue for many of Trump's golf properties, as well as his Mar-a-Lago resort, was lower than in last year's report. But the filing doesn't reveal if that was because business at the president's properties worsened, or because this year's disclosure captured a time period three-and-a-half months shorter than last year.
The disclosure shows that Trump remains in charge of more than 500 separate corporations and other business entities, and he declared that his businesses are together worth at least $1.4 billion, including 23 that he valued at more than $50 million. The purpose of many of the entities Trump controls is unknown.
One bright spot for the president's businesses is hotel management. Trump disclosed $17.1 million of management fees and contract payments for the arm of the Trump Organization that oversees such properties -- a substantial increase over the $2.9 million in fees he reported last year.
Ironically, that may be due in part to some of the company's management contracts ending. The Trump Organization announced in November that it had been bought out of its contract for an undisclosed sum to manage the Trump Soho in New York. At another property, Trump International Hotel & Tower in Toronto, the breakup fee was at least $6 million, according to a person with knowledge of the matter.
Trump is donating his $400,000 annual salary as president to different government agencies.
— With assistance by Bill Allison
(
Updates with additional details from financial disclosure from 11th paragraph.
)