economics
U.S. Lawmakers Say They Pressed Xi Aide on China's Unfair Trade Practices
By , , and
U.S. Lawmakers Say They Pressed Xi Aide on China's Unfair Trade Practices
By , , and
Xi's top economic adviser is in Washington for talks

Brady says he urged China to address U.S. trade concerns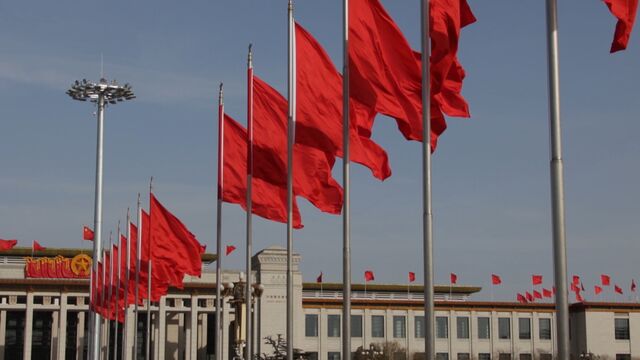 U.S. lawmakers pressed Chinese President Xi Jinping's top economic adviser to stop unfair trading practices as the nations try to pull back from the brink of a trade conflict.
"I urged the Chinese vice premier to seize this moment in time to address these lasting concerns and to continue to grow this relationship in a more fair way," said Kevin Brady, the Republican chair of the House Ways and Means Committee that oversees trade issues.
Brady spoke to reporters in Washington after his committee met with Chinese Vice Premier Liu He, who is visiting Washington this week for talks with the Trump administration on ways to resolve a brewing trade dispute. Liu, who has already met U.S. negotiators led by Treasury Secretary Steven Mnuchin in Beijing this month, is said to be optimistic that an agreement can be reached, CNBC reported.
"China doesn't want to see an escalation of trade frictions with the U.S., but we are prepared for all possible outcomes," Ministry of Commerce Spokesman Gao Feng said at a press conference in Beijing on Thursday. "China hopes the two sides can expand consensus while narrowing differences through joint efforts."
Senate Finance Committee Chair Orrin Hatch, a Republican, sounded a more pessimistic tone over a deal to avert tariffs after he met with Liu. Asked if the Trump administration will move forward with proposed levies on Chinese goods, Hatch said "I think they will go into effect."
A Senate Republican aide said that Hatch doesn't support tariffs and is hopeful the U.S. won't need to use them, but he wants to ensure the administration can keep them on the table, particularly with China in town this week.
Liu gave the OK hand gesture to waiting reporters as he left Hatch's office.
ZTE, Trade
Earlier Wednesday, President Donald Trump continued to defend the lifeline he offered to Chinese telecom-equipment maker ZTE Corp., insisting trade talks with Beijing are just getting started. "Nothing has happened with ZTE except as it pertains to the larger trade deal," Trump said in a series of tweets Wednesday.
The president surprised many in Washington over the weekend by saying he's working with Xi to help ZTE "get back into business, fast." The Chinese company has been crippled by a U.S. decision to cut off its access to key components from American suppliers for making false statements in a sanctions case.
Gao also said at the Beijing press conference that China wants the U.S. to take actual steps as soon as possible and to "fairly, rationally" handle the case. He again called for an end of the U.S. investigation under Section 301 over China's intellectual practices, and dismissed the speculation that the Chinese delegation's visit to Washington has anything to do with the U.S. hearing on 301 probe.
U-Turn Criticism
Trump's reversal was condemned by both Republican and Democratic lawmakers, and raised questions about whether the president was softening his approach in trade negotiations with China. Florida Republican Senator Marco Rubio said the move was a sign that the U.S. was about to "get out-negotiated by China again."
Brady and Hatch said the issue of ZTE didn't come up during Liu's meetings with lawmakers.
Mnuchin will lead discussions with Liu, along with Commerce Secretary Wilbur Ross and U.S. Trade Representative Robert Lighthizer, at the Treasury Department offices in Washington on Thursday and Friday, the White House said in a statement. White House trade adviser Peter Navarro, a China trade hawk, was initially excluded from the negotiations, according to two administration officials. But a White House official later said that he would participate in the talks. The officials were granted anonymity to discuss the matter.
Read More: How ZTE Ended Up in the Middle of U.S.-China Trade War
Before officials traveled to Beijing for talks, the U.S. issued a series of demands, including that China reduce its trade surplus with the U.S. by $200 billion in two years. According to a document seen by Bloomberg News, Beijing asked the U.S. to open government procurement to Chinese firms, and soften the Commerce Department penalty on ZTE, among other things.
"We have not seen China's demands yet, which should be few in that previous U.S. Administrations have done so poorly in negotiating," Trump said. "China has seen our demands."
Uncertainty over relations between the U.S. and China has roiled financial markets and raised concerns among businesses worried about a trade war. Trump has threatened to impose tariffs on as much as $150 billion in Chinese imports to punish Beijing for violating American intellectual-property rights. China has vowed to retaliate on everything from U.S. soybeans to airplanes.
Liu told the group of House representatives on Wednesday that he wanted to address trade imbalances by increasing Chinese demand for American products, Brady said. "The vice premier stated that he was here to listen to our concerns and he recognizes there are problems in this trade relationship."
Ways and Means committee members Tom Reed, a New York Republican, and Democratic Representative Sandy Levin, of Michigan, said a goal in the meeting with Liu was to show bipartisan support for countering China's trade practices.
"The message that I delivered was one that we are unified when it comes to calling out unfair practices and just looking for an opportunity to have a fair trade relationship," Reed said.
— With assistance by Miao Han
(
Updates with Ministry of Commerce comments.
)