economics
Bank of Spain Is Said to Downgrade Report on Inequality
By
Bank of Spain Is Said to Downgrade Report on Inequality
By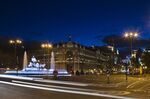 The Bank of Spain is debating how to handle an in-house study of wealth and income disparities which risks landing the institution in the middle of a political storm, according to two people familiar with the matter.
Rather than publish the analysis in its signature annual report, which carries the stamp of the governor and sets out the official view, the central bank is set to release it as a separate research paper, said the people, who asked not to be identified because they aren't authorized to speak publicly.

Governor Luis Maria Linde flagged the publication in testimony to parliament last month as a sign of the bank's commitment to addressing an issue which is increasingly contentious for a government relying on its economic record. But after the board discussed the analysis this month, it agreed to split it from the annual report, the people said.
"I can announce, even if the authors won't be too happy about it, that the annual report that's going to be published in a little over a month will carry out an interesting and very detailed analysis on inequality," Linde said April 16. "This is the first time the Bank of Spain has had to face this issue in the annual report and it's going to do so in a very clear way."
The study analyzed metrics including family and personal income as well as personal wealth, with comparisons to other European nations, one of the people said. While officials on the board praised the work, they expressed concern it could eclipse other parts of the annual report, the person said.
Read more: Income inequality debate rumbles on
The report will probably make reference to the research, according to one of the people. A Bank of Spain official said it's not unusual for documents to be released over separate dates and staff were given the option to publish before the annual report.
The text will be formally closed when the Bank of Spain board signs off on it at its meeting next week in Seville. The central bank declined to comment.
Any bad publicity could be damaging for the minority government of Prime Minister Mariano Rajoy, which has been battered by the crisis in Catalonia and is trying to push a crucial budget through parliament.
— With assistance by Esteban Duarte
(
Updates penultimate paragraph to describe approval process.
)