economics
Bank of England Tipped to Raise Rates in Slowing Economy
By and
Bank of England Tipped to Raise Rates in Slowing Economy
By and
Economists predict growth will ease to 1.4% in 2018 from 1.8%

Central bank said last week that rates will still need to rise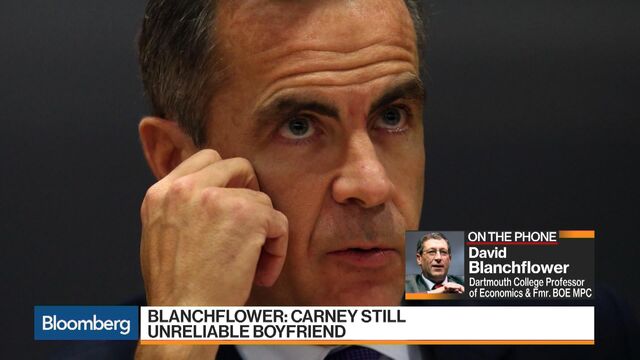 Slower-than-expected U.K. growth this year won't stop the Bank of England from at least one interest-rate increase, according to a Bloomberg survey of economists.
Output will stutter to 1.4 percent from 1.8 percent in 2017, the median forecast showed, slightly lower than the 1.5 percent previously forecast. Nearly 60 percent of economists see a hike at the August meeting. The poll was conducted in the week after the BOE's May 10 policy announcement, when it left its key rate at 0.5 percent.
The economy almost ground to a halt in the first quarter amid snowy weather and a pullback from consumers. Investors responded by pushing back bets on a rate increase having at one time seen a May move as a done deal.
BOE Governor Mark Carney said that growth will probably recover from its first-quarter slump and policy will still need to be tightened in the coming years to keep inflation under control.
That view of the U.K. economy was largely replicated in the Bloomberg survey. Economists see output recovering to 0.4 percent this quarter and continuing at that pace until the end of next year, while a similar rebound may be seen across most advanced economies.
What Our Economists Say
"The picture for advanced economies is clear -- growth hit the skids at the start of the year. But rather than a sign that the global expansion is running out of steam, the slowdown seems to be explained by bad weather and local idiosyncrasies. A rebound in 2Q looks likely."

--Jamie Murray, Bloomberg Economics. For more see GLOBAL INSIGHT
Recent figures have, however, have been mixed. A BOE report published Wednesday said investment intentions remain modest and said there was a "marked" slowdown in retail sales.
Consumer spending will also falter more than economists had previously expected and export growth this year will slow to 2.5 percent, the lowest since the survey began. The BOE said last week that it expects the U.K.'s engine of growth to shift toward exports and investment and away from household consumption.
— With assistance by David Goodman
(
Updates with Bloomberg Economics after fifth paragraph.
)