economics
Bond Traders Show Little Fear of Fed Yield-Curve 'Inversion Put'
By and
Bond Traders Show Little Fear of Fed Yield-Curve 'Inversion Put'
By and
Eurodollar strip steepens as more hikes priced in for 2019

BMO sees central bankers' comments as risk to flattening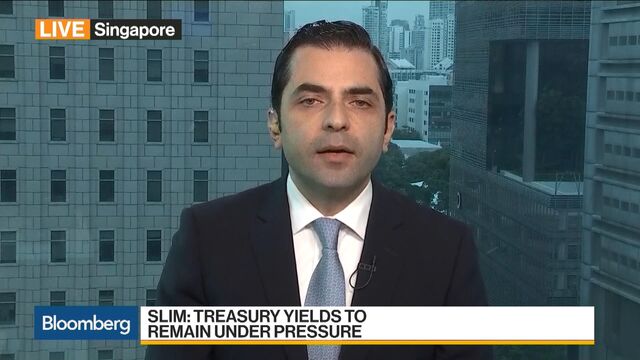 If Federal Reserve officials were trying to signal that they want to keep the Treasury yield curve from inverting, it doesn't look like bond traders got the message.
Sure, the curve steepened this week by just about every measure. But it wasn't from a pullback in rate-hike wagers, which have driven the flattening trend that's dominated the market for months. Instead, this week's move resulted from a surge in 10- and 30-year yields through key support levels that had held for years, in a bear steepening move that came amid rising oil prices and firming inflation expectations.
If anything, traders are pricing in a more aggressive Fed. The spread between eurodollar futures contracts that expire in December 2018 and those maturing 12 months later, which reflects tightening expectations for next year, broke through a range dating to 2015. The market is now bracing for almost two quarter-point increases in 2019, after barely pricing in one a month ago. That's on top of about 2.5 moves now expected by the end of this year.

Those wagers seem to fly in the face of central bankers' comments this week signaling concern about the yield curve heading toward inversion. Atlanta Fed President Raphael Bostic called it "my job to make sure that doesn't happen." St. Louis Fed President James Bullard said it'd be a "very negative signal" if aggressive tightening pushed spreads below zero.
Incoming New York Fed President John Williams was more measured, saying "we need to keep our eye on what happens to the yield curve in the next year or two, as we continue to raise interest rates."
Great Debate
The chatter raised a question for strategists at BMO Capital Markets: Will bond traders start to price in an "inversion put" if the curve gets too flat? That is to say, should traders assume it would cause central bankers to stop or slow their tightening efforts?
That would imply a dovish tilt. But a so-called bull steepening of the curve has been rare of late, precisely because traders have started taking at face value the Fed's intention to gradually tighten policy. Granted, the curve slightly moved in that direction Thursday, with two-year notes leading a rally.
The spread between 5- and 30-year Treasuries is about 30 basis points, up from as little as 26 basis points this week, which was the smallest gap since 2007. The difference between 2- and 10-year notes is about 53 basis points, up from 41 last week and through the 50-day moving average.
Ian Lyngen and Aaron Kohli at BMO predict the curve will invert this year. Yet "the one factor we highlighted that may serve to shift our position on this curve came from Fedspeak," they wrote Thursday in a note. "The Fed may endeavor to move the curve steeper as it gets close to inverting."
Ultimately, though, the latest pullback could wind up looking like little more than a blip. Unless long-term yields keep bursting to multi-year highs, all indications from the short-end point to flattening as the path forward.
"The accompanying steepening of the curve is more a respite from the sharp moves flatter rather than a shift in the underlying trend," Lyngen and Kohli wrote.