economics
Mario Draghi's Successor Will Inherit One Big Appointee: the ECB's Next Chief Economist
By and
Mario Draghi's Successor Will Inherit One Big Appointee: the ECB's Next Chief Economist
By and
Chief economist Peter Praet's term runs out in May 2019

The role is highly influential in setting monetary policy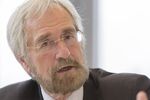 Mario Draghi's successor as European Central Bank president may find the most important personnel decision is taken months before they start.
Chief economist Peter Praet, one of Draghi's closest colleagues and an energetic proponent of the ECB's unconventional stimulus, is due to leave in May 2019 when his term on the Executive Board ends. His replacement in the role will have an outsized sway over monetary policy, presenting proposals and providing the economic rationale for action.
The intellectual leadership required makes the position critical for continuity when Draghi leaves five months later. That could be especially consequential should the presidency go to someone who has criticized ECB policies, such as current favorite Jens Weidmann.
"It can be even more important a post than the president's, in terms of influencing monetary-policy decisions," said Panicos Demetriades, a member of the decision-making Governing Council from 2012 to 2014. The "chief economist sets the tone" and his conclusions are usually "a good indicator for what's to come."
Draghi and the other five Executive Board members decide themselves how to share their portfolios. While that means the newest addition won't necessarily become chief economist, the options will be limited if the institution keeps to its tradition that the holder should have a doctorate in economics.
Government Selection
Among the 25 Governing Council members, comprising the board and the 19 national central-bank heads, fewer than half have economics PhDs, according to resumes on the websites of the institutions. That includes just two of the board: Draghi and Praet.
The qualification could be even more important given the deep changes to the economics department in recent years. Once a bastion of German monetary orthodoxy under Otmar Issing, the first chief economist, the unit has been transformed as it led the drive to craft new -- and often controversial -- crisis tools such as targeted long-term loans and quantitative easing.
It may be a consideration for euro-area governments, who appoint the ECB's board members based on a recommendation by finance ministers and after vetting by the European Parliament. That process is likely to start in the months running up to Praet's departure.
ECB Chief Economists
| Term | Name | Nationality |
| --- | --- | --- |
| 1998-2006  | Otmar Issing  | Germany  |
| 2006-2011  | Juergen Stark | Germany |
| 2012-2019 | Peter Praet | Belgium |
One likely candidate is Irish central-bank Governor Philip Lane, who already flagged his interest in an Executive Board position by running this year for vice president, eventually dropping out in favor of Spain's Luis de Guindos. Lane was formerly a visiting scholar at the International Monetary Fund and the Federal Reserve Bank of New York, and holds a doctorate in economics from Harvard University.
Estonian Governor Ardo Hansson, a former World Bank economist who also has a PhD from Harvard, could run, according to European Union officials familiar with informal discussions. The people asked not to be named because the talks are confidential.
In his public comments, Lane tends to side with Draghi. Hansson, on the other hand, has expressed some concerns over unconventional stimulus and is considered to be one of the more hawkish members of the Governing Council.
Compelling Counterweight
If the Executive Board makes Praet's successor the chief economist, the next president may have little choice but to stick with them, at least initially. While another shakeup will come in January 2020 when Benoit Coeure, the head of market operations, is replaced, no new positions are scheduled to open up after that until December 2020.
That could leave whoever gets the post acting as a much-needed counterweight to the "worryingly large" number of policy makers who oppose QE even if it means accepting inflation below the ECB's goal, according to Richard Barwell, head of macro research at BNP Paribas Asset Management.
"The ECB needs a compelling advocate for doing whatever it takes to reflate the economy," he said. "You can't count on the next president to do this, and next time the policy options may be even more radical so the chief economist job will be even more important."