economics
IMF Backs Macri's Plan to Quicken Fiscal Tightening in Argentina
By and
IMF Backs Macri's Plan to Quicken Fiscal Tightening in Argentina
By and
President's committment shows 'determination,' IMF's Rice Says

The Fund will hold an informal meeting on Argentina on Friday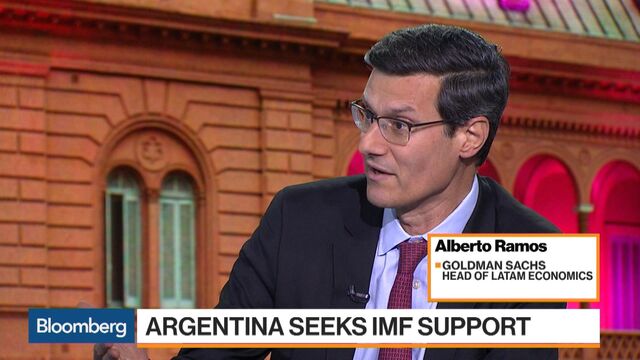 The International Monetary Fund said it welcomes Argentina's plan to cut its fiscal deficit at a faster pace after President Mauricio Macri announced steps to overcome a financial crisis.
The Fund's executive board will meet informally on Friday to discuss Argentina, which has requested financing to help stem a rout in the peso that is boosting interest rates and threatening to derail the economy.
The Fund would make its final decision on any credit line or financing at a formal meeting of the 24-member board, which represents the fund's 189 member nations, IMF spokesman Gerry Rice told reporters in Washington on Thursday. The IMF hasn't set a date for that meeting, he said.

Rice said the IMF hasn't discussed a target for the exchange rate as part of any program with Argentina, adding that market forces should determine the peso's value.
He spoke a day after Macri committed to start meeting with opposition lawmakers and unions to sketch out a plan to cut the nation's fiscal gap at a faster pace than anticipated. Argentina about two weeks ago lowered the target for its primary fiscal deficit to 2.7 percent of gross domestic product this year from 3.2 percent.
Sharp Reversal
The move toward faster tightening is a sharp reversal for Macri, who had vowed to gradually lower the deficit to protect workers' benefits and avoid a recession. The current pace and the nation's dependence on debt have made Argentina vulnerable at the worst moment possible, as investors sold the riskiest assets because of rising interest rates in the U.S., Macri said.
Macri's comments "show the government's recognition of the central challenges affecting the Argentine economy today, the government's ownership of the policies needed to address those challenges, and the determination to ensure balanced and inclusive growth," Rice said. "We strongly welcome President Macri's comments."
Inflation was 25 percent in April, above the target of 15 percent, and may accelerate on a weakening exchange rate. The peso fell 0.5 percent to 24.4 per dollar at 11:40 a.m. in Buenos Aires, extending the year's decline to 24 percent, among the worst performers in the world. The selloff has fueled a rout in credit and equity markets, closing off financing for companies and leading them to postpone share and bond sales.