economics
Indonesia Pledges 'Stronger Measures' as It Raises Key Rate
By , , and
Indonesia Pledges 'Stronger Measures' as It Raises Key Rate
By , , and
25 basis point increase was predicted by 19 of 33 economists

Emerging-market rout has seen rupiah slump 3.4% this year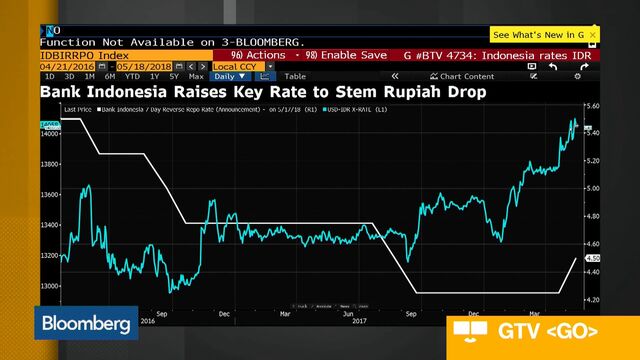 Indonesia's central bank raised its benchmark interest rate for the first time since 2014 and pledged to take "stronger measures" to maintain stability after the currency took a beating along with other emerging markets amid a global rout.
The seven-day reverse repurchase rate was increased by 25 basis points to 4.5 percent on Thursday in a decision that split economists. Of the 33 surveyed by Bloomberg, 19 predicted a hike and the rest forecast no change.
Chairing his final policy meeting before his five-year term ends, Governor Agus Martowardojo delivered on a pledge to act "pre-emptively" to restore confidence in financial markets as foreign investors dumped bonds and stocks and the currency slumped to a 31-month low against the dollar. Emerging markets from Argentina to the Philippines are being roiled by a stronger dollar and rising U.S. interest rates, prompting policy makers to raise borrowing costs.
"Bank Indonesia will continue to monitor economic developments and is ready to take stronger measures to ensure macroeconomic stability," Martowardojo said. "If the situation forces us to adjust our policy rate once again, we will do it without a doubt."

The central bank will remain vigilant to global risks, including Federal Reserve hikes, higher U.S. Treasury yields, rising oil prices and trade tensions, the governor said. He forecast economic growth of 5.1 percent to 5.5 percent this year.
Hawkish
Bank Indonesia's statement was "relatively hawkish," said Euben Paracuelles, an economist at Nomura Holdings Inc. in Singapore. "The hike reflects their focus on maintaining macroeconomic stability even if inflation or growth is in line with their forecasts," he said.
The rupiah is among the worst performers in Asia, down 3.4 percent against the dollar this year and falling to a 31-month low of 14,114 on Wednesday. There's been no respite for the currency even as the central bank boosts intervention in the foreign-exchange market, burning through more than $7 billion of reserves since the beginning of February to halt the rout.
"We took this policy as part of Bank Indonesia's policy mix to maintain economic stability amid the ongoing increase of uncertainties in global financial markets and the drop in global liquidity," Martowardojo said. "Bank Indonesia also continues efforts to stabilize the rupiah exchange rate in accordance to its fundamentals."
One rate hike may not be enough. The Fed has raised interest rates by 75 basis points over the past year and is set to tighten some more. To preserve the yield appeal of Indonesian assets for foreign investors, the central bank may be persuaded to increase rates further.
Temporary Relief
While the rate hike may provide some relief to the market in the short term, the central bank will need to raise borrowing costs again in two to three months to ease the selling pressure in the medium term, according to Jeffrosenberg Tan, head of investment strategy at PT Sinarmas Sekuritas in Jakarta. The rate increase may benefit battered bank and large-cap stocks more than government bonds, he said.
Policy tightening comes against a backdrop of subdued inflation and sluggish economic growth. Consumer prices rose 3.4 percent in April from a year ago, still well within the central bank's target of 2.5 percent to 4.5 percent.
— With assistance by Rieka Rahadiana, Harry Suhartono, Manish Modi, and Viriya Singgih
(
Updates with analyst comment in penultimate paragraph.
)