markets
Italian Mud Sticking to Euro Seen Dragging It Down to $1.10
By and
Italian Mud Sticking to Euro Seen Dragging It Down to $1.10
By and
Sentiment on the common currency turning, Standard Bank says

Risk reversals favor further weakness in the short-term
The euro's five-quarter rally is being impeded by a five-letter word: Italy.
As the wind was knocked out of Italian bonds Wednesday on concern that the two populist political parties struggling to form an administration would seek a government debt writedown, the common currency slid to the weakest level this year. That may only be the beginning, according to Standard Bank.

Political uncertainty is now augmenting slowing economic momentum to support euro bears, said Steve Barrow, head of foreign-exchange strategy at the bank in London. The currency could fall as low as $1.10 from its current level of about $1.18, he said.
"We are likely to find that this sort of mud sticks to the euro," Barrow said. "Our previous call for a move into a $1.15-$1.20 range looks as if it might be more a case of $1.10-$1.15. Whatever it is, we don't see the slide in the euro stopping just yet."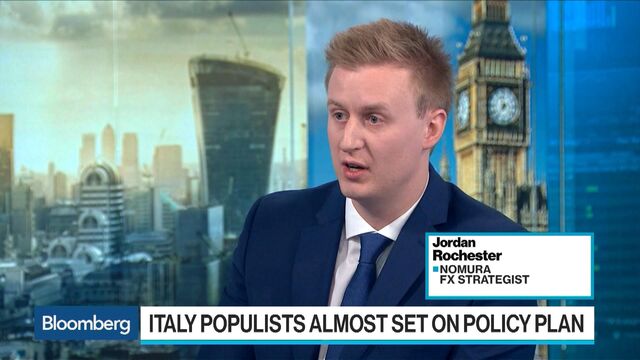 The currency rallied more than 17 percent in the five quarters through March and has since fallen 4 percent to touch a 2018 low of $1.1764 on Wednesday, as the yield on the Italy's 10-year benchmark surged to a four-month high, breaking a 150-basis point premium over its German counterparts. Further spread widening may weigh on the common currency as euro longs look for technical support at $1.1709 to absorb selling pressure.

Short-term investors are short the euro in the cash market, albeit less so than a week ago, said traders in London and Europe, who asked not to be identified because they are not authorized to speak publicly. Macro accounts have joined the euro-sell rally early on, while real-money accounts have only recently responded to the dollar's fresh move higher, they added.
Option traders seem to be ignoring risks looming on the horizon. The benign valuations on six- and 12-month implied volatility as well as risk reversals "remain close to the most neutral levels during the lifetime of the currency," according to Bank of New York Mellon Corp. Still, the euro has had five distinct episodes when it has fallen at least 15 percent or more from year-earlier levels, Simon Derrick, BNY Mellon's chief currency strategist, wrote in a note.
Vassilis Karamanis is an FX and rates strategist who writes for Bloomberg. The observations he makes are his own and are not intended as investment advice